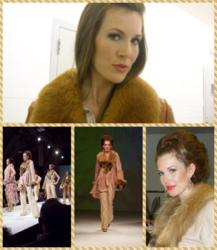 Kenmore, NY (PRWEB) August 31, 2012
Fringe New York, a premier New York salon that specializes in European styling, recently announced that they have added the professional expertise of renowned makeup artist, Beauty by Yaz to the high end salon services they offer. Beauty by Yaz will provide several new services at Fringe New York, including air brush makeup and body art. The new services are available at Fringe New York's Kenmore location or on site at special events or in private homes.
Beauty by Yaz is the professional makeup artist company of Yasmein Abdulla, who is known around the world as the premier make up artist for commercials, celebrities, film, photo shoots, runway and fashion shows, Hollywood red carpet events, weddings, music videos, and many other special events. Beauty by Yaz's professional services include traditional, glamour, and beauty makeup, airbrush makeup, body art, eyelash application and variety of other makeup services. With over 12 years of experience as a special event makeup artist and hair stylist, Beauty by Yaz brings national exposure to Fringe New York with international clientele.
Fringe New York along with Beauty by Yaz uses only the highest quality coloring cremes and cosmetics with industry leading products, such as MAC and Framesi Hair Color. For complete information about the Italian hair styling products and services that Fringe New York offers, visit their website at http://www.fringe-newyork.com. For further information about Beauty by Yaz, visit http://www.makeupandhairbyyaz.com.
About the company:
Fringe New York is located in the heart of Kenmore, NY and specializes in European and Italian hair styling - Their mission is creating the best look just for their customers. They are top experts and professionals in cuts, color and highlights as staff members at Fringe New York are required to take higher education classes in an effort to remain at the forefront of their industry.
They have mastered the art of the Italian hair colouring system developed by Framesi, the most prestigious color company in the world. Enhanced by its coconut oil base, Framesi Colouring Cream infuses shine, condition and provides uniformity of color every time. Each color is specifically customized for individual needs. Framesi's unique cosmetic formula provides 100% white coverage with exceptional holding power while giving unsurpassed softness and brilliance to hair. For more information visit their website at http://www.fringe-newyork.com.