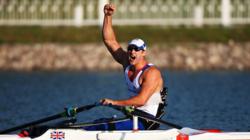 It's not a struggle to find motivation this year. I guess the motivation is to make sure that I do the best I can and produce the best performance I can in front of a home crowd on home water
(PRWEB) August 31, 2012
British rower Tom Aggar is determined to feed his addiction for gold once again when the Paralympic regatta begins at Eton Dorney today.
Unbeaten for more than five years, Aggar is the reigning Paralympic champion and a four-time world champion in ASM1x men's Single Sculls.
The 28-year-old has been so dominant for so long that he is often asked what still motivates him, how he keeps his competitive juices flowing.
'Winning is quite addictive,' Aggar said.
'It's not a struggle to find motivation this year. I guess the motivation is to make sure that I do the best I can and produce the best performance I can in front of a home crowd on home water.
'I enjoy the sport, which helps, and just want to keep pushing the boundaries and see where I can take the event.
'Since Beijing it's been a four-year project to make sure I'll be there and hopefully defend the title.
'It's a dream opportunity. I was born and brought up in London. To be able to compete on a home stage in front of a home crowd is a once in a lifetime opportunity.'
The Paralympic regatta begins with heats today. The finals are on Sunday.
Aggar won gold in Beijing three years after he was paralysed from the waist down in an accident but that inner drive has meant his level of competition has increased every year since.
His room-mate is Nick Beighton, who lost his legs while serving in Afghanistan less than three years ago and will compete with Samantha Scowen in the TAMix2x.
'We know what we can achieve and when we line up on the start line we will have aspiration to win a medal - but there are 11 others trying to win gold,' Beighton said.
'We want to get to the A final and give ourselves an opportunity of winning.'
Britain's third crew competing at London 2012 - the mixed coxed fours of David Smith, James Roe, Naomi Riches, Pam Relph and cox Lily van den Broecke - are aiming to add Paralympic gold to the world title they won in Bled last year.
'This is a once-in-a-lifetime opportunity. I would like to think we can win a medal,' Smith said.
For further information please contact the London 2012 Press Office.
###