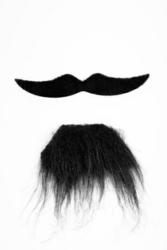 "2012 is the year of the Beard…the stache is old news. And, what better way to celebrate the beard than to grow one for a great cause," says Ben Davis of The Gents Place.
Dallas,TX (PRWEB) August 31, 2012
Septembeard is an organization with a simple, focused goal: eradicating prostate cancer, the second leading cause of cancer deaths in men according to http://www.septembeard.org. There are three basic ways to be a part of Septembeard; growing solo, creating a team or simply making contributions. The first step is to visit the website and create a profile. For men, this is when the growing begins. The next step is to spread the word and collect donations. Get creative and make a contest out of it. Be a hero and sleep in longer in the mornings. What is better than that? For more information or to learn how to participate please visit http://septembeard.org/
Both Equinox and The Gents Place are teaming up together to encourage clients to sign up and participate. On Sunday September 30th, an event will be held at The Gents Place Preston Hollow club from 5:00-7:00 pm celebrating all that the participants have accomplished during the month.
Whether the man wants to trim it up or take it off… The Gents Place is hosting an event to do just that. They are offering participating men complimentary straight razor shaves or beard trims. But that's not all; the event will also have the House of Cigars on site hand rolling organic cigars for purchase as well as complimentary beverages.
The Gents Place and Equinox would like to send out a special invite to anyone and everyone who would like to be a part of the event. Please RSVP to Jennifer Berry at jberry (at) thegentsplace (dot) com by September 21st.
About The Gents Place
Founded in 2008 by Ben Davis, a frustrated guy who hated getting his haircut, The Gents Place offers men's grooming and lifestyle products and services in a masculine, yet relaxed country club type environment. They offer men's hair services, hand and foot repairs, straight razor shaves, massages, shoe shines and more. Frequently referred to as America's Premier Men's Grooming and Lifestyle Club with locations in Texas (Dallas, Frisco) and Kansas (Leawood), The Gents Place is known for its commitment to client service and top shelf amenities. For more information about The Gents Place or to find a club near you please visit http://www.thegentsplace.com/
About Equinox
For twenty years, Equinox Fitness Clubs has provided an unparalleled member experience, setting new standards from personal training to group fitness to rejuvenating wellness treatments. Located in the active, social community of North Dallas, the Preston Hollow club features include a boxing studio, dedicated yoga and cycling studios, and a developmentally-focused Kids Club just to name a few. To find a club closest to you or to learn more about Equinox, please visit http://www.equinox.com/