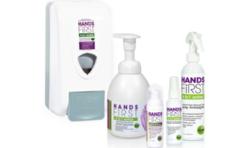 By removing the alcohol and making a non-toxic hand sanitizer like Hands First the only option students have, you have eliminated the risk kids will misuse the product
(PRWEB) August 31, 2012
As millions of children are preparing to go back to school, parents are busy finding those much needed school supplies to help start the school year off right. In recent years, personal sized hand sanitizers have been added to many supply lists to help fight infection and increase attendance rates. However, it is important for parents to understand that they could be providing their children a potential intoxicant.
Traditional alcohol-based hand sanitizers have potentially hazardous consequences if misused. Recent incidents have exposed the dangers of alcohol-based hand sanitizers when ingested and many public health officials are concerned this could become a trend, as a few squirts of hand sanitizer can equal a significant dose of hard liquor.
Hands First Hand Sanitizer is the perfect solution for combating this trend while providing safe and effective hand hygiene. Its non-toxic, alcohol-free formula is 99.99% effective against harmful bacteria and is medically documented to provide lasting protection for up to three hours without the need to reapply.
"By removing the alcohol and making a non-toxic hand sanitizer like Hands First the only option students have, you have eliminated the risk kids will misuse the product," says Dr. Roger Huckfeldt, a skin care scientist and inventor of Hands First.
While other non-alcohol hand sanitizers provide safety for children because they are non-toxic, few do anything to protect cuts and scrapes that are on children's hands. Typical alcohol based sanitizers are extremely painful in small cuts on the hands and can cause children to avoid application. Hands First contains two active ingredients; allantoin to help protect the minor cuts, scrapes, and burns on the skin and benzalkonium chloride to provide lasting antimicrobial protection, all without any painful stinging or burning from alcohol.
"Hands First is more than just alcohol-free, the antimicrobial protection will kill bacteria and viruses that are on the hands, while the skin protectant places an invisible layer of protection on skin and wounds, helping skin treat and heal itself," says Huckfeldt.
Hands First is a needed improvement over simple hand sanitizers for back-to-school supplies. Hands First is available 1.7 oz. bottles, 12 oz. bottles, 20 oz. bottles and wall mounts, ensuring the hand sanitation needs of any type can be met. For more information or to purchase Hands First, visit http://www.healthybrandsforlife.com.