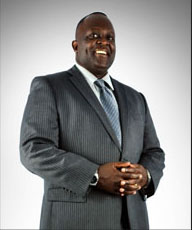 Hamilton shares his story of...starting and subsequently closing seven consecutive businesses before striking success in 2004
Raleigh, NC (PRWEB) August 31, 2012
James Hamilton, a formerly homeless turned multimillion dollar business owner, is partnering with two-time Superbowl champion Rod Smith on a national business coaching tour to give back to business owners and aspiring business owners. The BOSS Success Tour kicks off at the Capital City Club in Raleigh on September 13-14.
The BOSS Success Conference is an intensive two-day event featuring James Hamilton and former NFL wide receiver Rod Smith. Hamilton shares his amazing story of coming up through poverty, serving in the military, and then starting and subsequently closing seven consecutive businesses before striking success in 2004. Since then he has gone on to build and run a multimillion dollar company. In this conference he shares what he did wrong and what he did right during those trying years.
Rod Smith has enjoyed equal success in the business world since retiring from football as operator of several successful businesses. He shares his stories of success and failure both on and off the field. Now the two long-time friends have joined up to share their success with other aspiring business owners.
The BOSS Conference will cover topics such as: How to make money in a bad economy, how millionaires have increased their net worth in recent years, and the secret industry the rich are not telling you about.
The Thursday-Friday event is free to public and open to everyone. The cost of the facility has been covered by generous donations from local sponsors.
The Capital City Club is locate at: 410 South Wilmington St. Raleigh, NC 27601
For additional information on the news that is the subject of this release, contact Anthony Hall.
About the BOSS Society:
Started in 2008, the BOSS Society is dedicated to helping people successfully work for themselves. Eight years ago, James Hamilton a founding member was living on the streets. Today he runs a multimillion dollar company thanks in no small part to his BOSS Society mantra—Be Your Own Success Story. Hamilton gives back by sharing his story and the principles behind his transformation to young, aspiring entrepreneurs across the country.
CONTACT
Anthony Hall
Communications Director
(919) 596-1386
ahall(at)bosssociety(dot)com