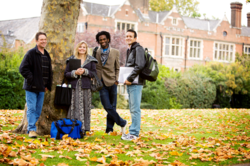 Parents may want to purchase additional insurance to cover specific items, including computers and electronics.
Lincoln, RI (PRWEB) August 31, 2012
As students head off to college this fall, Amica Insurance reminds parents to review their auto and home policies to make sure children are covered – and for possible savings.
"Today's college students often bring with them a variety of expensive equipment – including computers, televisions, stereo components and smartphones," said Ben Mellino, an assistant vice president with Amica Insurance. "A parent's homeowners policy provides some coverage for a full-time student living away from home, if their belongings are lost or stolen. But it may not be enough."
Typically, coverage for a student's belongings is limited to 10 percent of the personal property limits on the family's homeowners policy, Mellino said. "Parents may want to purchase additional insurance to cover specific items, including computers and electronics," he said.
If your child is taking a car to college, the parent's auto insurance policy will most likely cover it as long as the vehicle is registered to the parent as owner, Mellino said. And if a student is not taking a vehicle, the parent may be eligible for a reduction in auto insurance premiums. Contact your insurance company for details.
Here are a few security precautions to take before bringing expensive belongings to school:

Create a list of all items brought to school, including model and serial numbers. Amica's mobile app offers a handy home inventory feature that lets them record this information easily.
Keep copies of all receipts.
Mark valuable items with your child's driver's license number and state, so they are easier to track down if lost or stolen.
Remind students not to leave computers or other expensive electronics unattended, especially in dining halls, libraries, gyms and other public places.
"Good luck to students, and their parents, as classes get underway this fall," Mellino said. "And remember to check with your insurance company if you have any questions about coverage. It can help provide at least a little peace of mind while they're away."
About Amica Mutual Insurance
Amica Mutual Insurance Company, the nation's oldest mutual insurer of automobiles, was founded in 1907. The company, with corporate headquarters in Lincoln, RI, is a national writer of automobile, homeowners, marine and personal umbrella liability insurance. Life coverage is available through Amica Life Insurance Company, a wholly owned subsidiary. Amica employs more than 3,100 people in 40 offices across the country.
CONTACT: Vince Burks, Corporate Communications, 50 Amica Way, Lincoln, RI 02865-1155, 800-652-6422, ext. 24563
Twitter: Amica
Facebook: Amica Mutual Insurance Co.