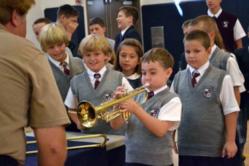 Everest strives to provide an environment that cultivates an appreciation for order, beauty and the excellence we seek to instill in our students.
Lemont, Illinois (PRWEB) August 31, 2012
Interactive projectors plus traditional grammar and phonics comprise some fresh factors toward education for leadership at Everest Academy this school year. The Lemont Catholic school is welcoming 51 new students as well as further enriched academics for the 2012-13 school year, with a total enrollment of 144 students and more innovative programs.
Everest embraces aspects of the classical approach to education, while maintaining the Integral Formation® method. This method provides a well-rounded and balanced education focusing on the students' intellectual, character, spiritual and leadership development, with an emphasis on service to others from preschool through eighth-grade. According to Everest principal, Ms. Christine Gamache, the curriculum has been improved further this year, incorporating a new grammar program for kindergarten through eighth grade, and an explicit phonics program for lower school. In addition, writing skills are a major focus incorporating techniques progressively from grade to grade.
"Everest strives to provide an environment that cultivates an appreciation for order, beauty and the excellence we seek to instill in our students," according to Ms. Gamache. In order to do this, administration and faculty have been busy over the summer preparing the building and classrooms for the influx of new and returning students. The building, which was just completed in 2009, has been decorated anew for returning grades and to accommodate an additional Kindergarten class. Projectors with interactive capability have been added to many classrooms.
The addition of two experienced teachers add even more talent to Everest's growing academics program. Ms. Kellie Bryan of Orland Park was hired to teach first grade. Ms. Bryan has a great love for teaching and children that she brings to the classroom. Ms. Julie Woodin will teach music to preschool through eighth-grade. Ms. Woodin has eight years experience teaching classroom music, and will direct the Everest choir as well as offering private voice and piano lessons after school.
Everest Academy is very pleased to announce that the addition of a band program for third through eighth-grade students, offered under the expertise of band director, Mr. Jim Rallis of Lemont. Mr. Rallis has over twenty years of music experience, and is enthusiastic about leading and building this new program at Everest.
Everest teachers took time over the summer for professional development as well. Preschool teacher Mrs. MaryAnn DeBiase completed her certification in the Montessori Method of education, since the Everest preschool program includes Montessori educational centers as a valuable teaching tool in addition to its teacher-directed curriculum. Ms. Stephanie DeRoche, 2nd grade teacher, completed classes this summer towards a master's degree in Library Sciences. All Everest teachers spend a week of the summer for professional development and training, including seminars and group work on the mission and vision of the school, educational approach, positive discipline, character formation, and academic excellence. The professional development continues throughout the school year, with five full days and two hours each week dedicated to teacher institutes.
Everest Academy is an independent Roman Catholic school in Lemont educating children from pre-kindergarten through eighth grade. The teachers and staff are dedicated to forming the whole child by providing the highest level of academics, by building strong character, and by preparing generous leaders ready to serve the community. If you would like to learn more about Everest Academy's approach to education, please contact the Admissions Office at 630-243-1995.