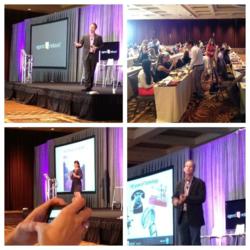 If you don't have a well designed website, don't even talk to me about Twitter.
Miami, FL (PRWEB) August 31, 2012
Not even Isaac could have made the South Florida, technology-thirsty Real Estate agents stay away from the Inman News Agent Reboot Conference held in Hollywood, FL on August 29, 2012. The event garnered both local and national sponsorships from technology-savvy companies such as Zillow, Realtor.com, Homes.com, Lowes and Avanti Way. The main buzz for the year? How to maximize the agent's online presence.
Judging from the amount of marketing and website orientated products on display, the main push for this year's conference seemed to center around Marketing Strategies and especially on the importance of a Real Estate Agent's main website, a point driven home by two of the most recognized speakers at the event: Chris Smith, Chief Evangelist of Inman News and Jim Marks, President of Virtual Results.
A good number of the sponsors were offering website creation and management services for the agents, which made it clear to all participants that when it comes to their online marketing, a good website is the crown jewel. "If you don't have a well designed website…" quoted Jim Marks from one of Chris Smith's earlier talks, "don't even talk to me about Twitter."
"It seems that we're all in sync this year," added Andres Korda, Co-Founder of Avanti Way Realty, one of the leading Technology-centered Real Estate Firms in South Florida. Avanti Way was one of the three local sponsors of the South Florida Agent Reboot. "There was less emphasis on Social Media this year, though of course, the importance was still evident, but all studies point to one thing: the consumer is now shopping online, and agents need a virtual storefront that not only allows that consumer to search the available products, it needs to engage and be visually appealing in order to compete."
"I loved it! A lot of great inspiration." Commented Gaetano Ottati, an attending agent, on the wealth of information – and that seemed to be the consensus among the crowd who sat patiently through a sleuth of 10-minute presentations on varied topics: from how to take better pictures to which apps are the must-haves for the year.
"It can be a little overwhelming," admitted another agent in between breaks, "now I have to go home and sort through everything and try to figure it all out."
"There is a lot of great technology out there and Inman News is an amazing source for getting the scoop on all it. With that said, however, it is true that processing it all and making it work for you could very well be the Golden Fleece of Real Estate," Added Korda, explaining the agent's almost flustered response. "How do I get all of these great third party tools, put them to good use, organize them all, research them all, and still have time to do Real Estate? I'd like to think that we've solved that issue for our agents: AVEX is a one-stop, synchronized virtual-office with everything you need right out of the box. CRM, offer submission, Lead management, you name it! We've got it. And now, we're doing the same thing with the Agent Websites." AVEX is Avanti Way's patent-pending, paperless system that allows their agents to access everything from contracts, transactions, listings and leads from anywhere in the world.
As part of the Inman News participation, Avanti Way invited all the Agent Reboot attendees to their upcoming Blue Martini Night on September 5th, 2012 where they'll unveil their newest "industry breakthrough" called Avexsites, an amazing tool for property search, lead capturing and website SEO.
"We'll be giving out a lot of great tips of how to use these tools and other third-party tools to maximize your website, but by the way, did you know? We've already got all that, packaged it… and now it's free through Avanti Way." Adds Korda. "We are really excited that the rest of the Real Estate world is really waking up to the fact that the future will be fast, virtual and paperless. Technology and Entrepreneurship are our passions and I can't think of a better way to reflect that than partnering with Inman News in these amazing events."
If you'd like to attend their Blue Martini Night, it will be held at their Miami-based Headquarters on 8700 W Flagler Street, Suite #160 at 7 PM. Laptops are welcome for a special "test-drive" version available exclusively for those who attend. The RSVP link is bluemartini.eventbrite.com, there's limited seating so the early birds will definitely get the worm… or in this case at least, a blue martini.
For more information on Avanti Way, you can visit avantiway.com or joinavantiway.com.