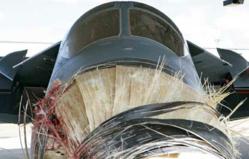 Chicago, IL (PRWEB) August 31, 2012
On August 15, 2012, Dr. Philip Whitford presented new scientific data regarding airport bird control at the 2012 Bird Strike Committee USA Meeting. This new information was extremely well-received and has the potential to change the way airport authorities and the FAA address bird control issues in the industry.
According to a recent article in USA Today, the "FAA provided $458 million to airports from 1997 to 2011 to reduce wildlife hazards. The agency estimates it will spend another $366 million on the projects over the next 20 years." Yet airplane bird strikes are on the rise and the FAA is being accused of a lack of "oversight, enforcement, and wildlife hazard expertise."
Dr. Philip Whitford is an Emeritus Professor at Capital University with a PhD in biological sciences, specializing in animal behavior and wildlife control. He has spent years studying the nesting habits and flight patterns of Canada geese, particularly in areas surrounding airports and airfields. A pilot himself, Whitford has completed an FAA Certified wildlife hazard assessment training program and serves as a consultant and advisor to airports.*
Dr. Whitford's research for this study was conducted at the Dane County Regional Airport (MSN) in Madison, Wisconsin, following growing concerns about goose populations and the dangers they were bringing to MSN Airport. Pilots reported numerous instances of geese in flight infringing on airport flight paths. Local authorities initially suggested killing Canada geese in nearby community parks – specifically Warner Park – where geese are accepted and beloved by many park patrons. With community members protesting the proposed kills, an unbiased study was needed to determine the threat.
Dr. Whitford started by identifying "goose attraction" sites such as crop fields and ponds in the immediate and outlying areas around the airport. He observed geese in the fields and gave pilots the tools to report their Canada goose encounters.
After gathering the data, it was determined (by observing daily flight patterns and flight heights) that the majority of geese threatening air safety were not from nearby parks, but were recent migrants temporarily residing with local resident Canada geese. These migrant geese were moving from local lakes and marshes to outlying harvested crop fields, and in doing so, crossing the airfield at heights and times dangerous to landing and departing aircraft.
Killing off Warner Park geese would not be necessary after all. Instead, reducing/removing attractions and implementing bird control solutions in those remote sites would be much more effective in preventing bird strikes and much less offensive to community residents.
Dr. Whitford's research conclusion suggests simple landscape alterations around lakes and ponds. Farmers should plow immediately following harvest and apply a taste aversion to fall planted crops to deter geese from the area. One of the most successful tools Dr. Whitford recommends is the GooseBuster sonic repellent device which broadcasts unique alert and alarm calls of Canada geese, repelling them from the area for good when used with crackershells as reinforcement. GooseBuster is a behavior modification tool that covers up to seven acres of mixed-use land and up to 80 acres of open fields. GooseBuster is the most aggressively effective goose repellent device in existence.
*Certified FAA wildlife hazard management consultants advise airports on wildlife population management and dispersal techniques, endangered species act compliance, wetlands mitigation, pesticide usage, drafting and implementation of integrated wildlife hazard management programs, and review applicable local, state, and federal laws, regulations, and ordinances under the requirements of Title 14, Code of Federal Regulations, Part 139.
For more information about humane and eco-friendly pest bird control, visit http://www.bird-x.com.
About Bird-X, Inc.
Bird-X is the leader in producing humane pest and bird repellent products, since 1964. We offer the most comprehensive line of bird control products that are humane, non-toxic and eco-friendly. Our bird deterrents range from state-of-the-art laser technology to sonic/ultrasonic bird control, goose and pigeon repellents, bird netting, bird spikes, visual scares, and animal sound repellers.