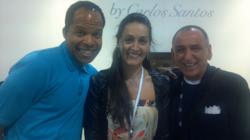 Las Vegas is the perfect venue to place my bet.
(PRWEB) August 31, 2012
The Las Vegas Convention Center was packed with thousands of buyers from across the nation. The weather was steamy as the summer sun beat down on the sidewalks. Once inside, the buyers were prepared to walk 10 miles of bustling isles stocked with fashion mens wear, mens shoes and shirts for men. Tens of thousands of styles clamoring for face time with each and every buyer. Brand representatives calling out for attention as buyers passed two and fro. At the registration desk each buyer was handed a show tag placed around their neck, a packet of convention information and the all important order sheet. With pencils sharpened and a laser-like focus each buyer prepared to enter the gauntlet. The convention doors opened and there it was... a multiplicity of mens clothes not to be seen anywhere else.
Giovanni Marquez, the managing director of FSBMens.com in South Florida has been at this for more than three decades. An expert by any measure he prepared himself as he does every season by wearing comfortable Fluchos slip-ons, a Jared Lang polo, walking pants by Gruppo Bravo and a knitted cardigan by Revolution to guard against the chill of the air conditioned hall. Pencil in hand Marquez explained, "as buyers, we must first start and then finish a walk-through taking notes as we go. With acres of styles and name brands to review it may take several walk-throughs before we can make any decision."
All buyers feel the same amount of panic. It's a gamble on selecting the fashions they believe will sell. Buyers must know and understand their customers and stock accordingly. But even with a well managed strategy its a dice roll. According to Marquez, "Las Vegas is the perfect venue to place my bet." A buyer like Marquez will spend two or three days reviewing suits, shirts, shoes, and accessories. Towards the end of the week he will make up his mind and face the convention one last time. With copious notes regarding the thousands of items he has reviewed, he'll find a quiet space on the property to begin the ordering process. As a buyer he must calculate more than the styles he wants to offer. With a good memory about who his customers are he will venture a best guess about sizes and amounts. Buying for a mens wear store is not for amateurs. Don't try this at home... only professionals need apply.