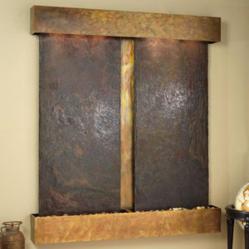 Water has been used for therapeutic purposes for tens of thousands of years.
Arden, NC (PRWEB) August 31, 2012
Kinetic Fountains, a respected supplier of indoor and outdoor water fountains and other water features, has today debuted new solutions for in-home sound therapy with their extensive selection of wall fountains.
Water has been used for therapeutic purposes for tens of thousands of years. The ancient Greeks and Romans built huge public baths around hot springs, and many of these areas were considered "holy" for their purported health benefits. The ancient Celts venerated running water as divine, and Eastern philosophy also reveres water for health and healing benefits.
While many traditional forms of aquatic therapy rely on full immersion, sound therapy is different. Wall water features like those offered by Kinetic Fountains provide numerous benefits through sound therapy – including providing a calming, natural influence and relieving stress. It is that stress and tension relief that seems to have the most profound impact on health, by helping to reduce blood pressure, provide clearer mental focus and reduce strain on the body.
Wall fountains on offer from Kinetic Fountains are available in a variety of designs and styles to help homeowners fit sound therapy into their existing décor. Fountain construction materials include slate and copper, glass and stainless steel. Art wall fountains are also available in a range of styles, from minimalistic Eastern designs to modern art, Art Deco and much more.
Kinetic Fountains is also proud to offer water features in a variety of sizes to ensure that each customer is able to enjoy the best fit possible. For homes with minimal wall space, small fountains are available, while larger homes will benefit from water walls and larger wall fountains.
To learn more about the many wall fountains on offer or to place an order, visit the company at http://www.KineticFountains.com.
About Kinetic Fountains: Kinetic Fountains is located in the stunning Blue Ridge Mountains in North Carolina. The company is dedicated to giving customers the means to enjoy the incomparable beauty of nature and the health benefits offered by running water in the form of indoor fountains, outdoor fountains, logoed fountains and more.