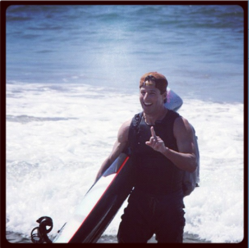 I was completely spent by the end of the race. But I know anyone who is fighting a sarcoma, or any disease, would have gladly changed positions with me.
Los Angeles, Calif. (PRWEB) August 31, 2012
The Ocean of Hope, which raises money for sarcoma patients, made a good showing at the Catalina Classic Paddleboard Race this week. Now the athletes look forward to outrigger-canoe races in September.
O2H, the biggest fundraiser for the national nonprofit Sarcoma Alliance, consists of paddleboard and outrigger-canoe races across the country, says Aimee Spector, co-captain. She entered the Classic for the first time, trading her canoe for a paddleboard. The race stretches 32 miles from Catalina Island to Manhattan Beach.
"I felt honored to be out there with so many incredible athletes. I will definitely be out there again ... in a couple of years."
Seven women competed, the most ever, and Spector placed third. She said Kelsey O'Donnell was first with the fastest time for a woman: 6 hours, 18 minutes and 28 seconds.
"These women are pretty outstanding," says O2H member Philip Ambrose.
Spector finished just after famous board shaper Joe Bark, who had donated two paddleboards to the Ocean of Hope this year. One was raffled off after the Classic; the other had been claimed earlier. They brought in $3,000, and Spector says O2H will have another two next year.
If people raise $3,000, they can have their name on a paddleboard. Spector had the names of Bob Chambliss and Tracey Talley, Steve Shikiya had Suzie Siegel, Steve Shlens had Suzanne Leider, and Phil Ambrose had Wendy Sommers. All of them carried a sticker for Laura Sardisco, who just had surgery for breast cancer. She is the wife of co-captain Fred Sardisco. Mike Rogers and Joel Pepper trained this year, but injuries kept them from racing.
After Sunday's Classic, Spector says, "I am racing outrigger canoes in Kona this Saturday with an all-star Hawaii crew. The following Saturday [9/8] is the U.S. Outrigger Paddling Championships from Newport Beach to Catalina Island." She will race with a women's team from the Lanakila Outrigger Canoe Club in Redondo Beach. "Our women's team has won every race this season; we are hoping to do the same for the championships.
"The next week our same team is going over to compete in the Pailolo Challenge, a 26-mile race from Maui to Molokai. Last year we won the iron (6-man) division. The following week, I am going over to Molokai to race the Na Wahine O Ke Kai race with a group of paddlers from Northern and Southern California."
Sept. 15 is the Paddle for Humanity paddleboard race in Austin. This year, Waterman's Applied Science chose the Alliance as one of its charity partners. "If paddlers designate the Alliance as their favorite charity, we will get 20 percent of their registration fee," Spector says.
Two days later, the Ocean of Hope will set up its bright-yellow information tent in Hermosa Beach, Calif., for Hennessey's International Paddleboard Race.
Racing in the Catalina Classic for O2H for the first time, Steve Shlens took first in the stock category, for boards no longer than 12 feet.
"I put a lot of time and effort into this year's race and it fortunately turned out well. I managed to finish in 5:56:03, just 32 seconds short of the all-time stock board record set in 1999 by Gary Fortune. I believe it's the third-fastest stock board crossing in the race's history.
"I was completely spent by the end of the race," Shlens says. "But I know anyone who is fighting a sarcoma, or any disease, would have gladly changed positions with me. It's why I joined O2H in the first place, hoping I could help others and make a small bit of difference for them.
"I had a goal of raising at least a thousand dollars and was thrilled that I met that goal. My contributors are all very special people so this meant a great deal. I also was honored to place the names of real fighters on my board -- to paddle with them across the channel."
Among 77 paddlers, Steve Shikiya was 23rd overall, paddling in the unlimited class, which dominated the water. Ambrose, who came in 62nd, described great conditions, with wind and waves pushing the paddlers along.
"In the middle of the channel, the water was very warm and super clear. Seeing the fish below me, I was mesmerized, but I had to take my eyes off it," Ambrose said, and focus on the race. "It felt like I was really racing, not just participating and finishing. I felt really good. I was racing against myself.
"I feel like I could do it all over again. I feel strongly about doing better next year. "
For more information on Ocean of Hope, go to: http://sarcomaalliance.org/ocean-of-hope/