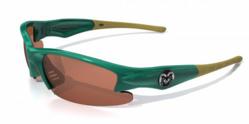 Colorado Springs, CO (PRWEB) August 31, 2012
Maxx HD® Sunglasses, the leader in affordable high definition sunglasses announced today the release of their Colorado State University® eyewear collection. These CSU® insignia high definition sunglasses allow Maxx customers to express their school spirit and share in the excitement and tradition of the CSU® Rams, while protecting their eyes.
The CSU® collegiate sunglasses are proudly offered in the MAXX HD® Dynasty model. The entire line of CSU® sunglasses are highlighted with the University's logo in metal on the arm and are offered in the schools vibrant green, gold and white colors.
"We are extremely excited to release our CSU insignia sunglasses, we are both local to Colorado, so the Rams are one of our adopted teams," stated Maxx HD® Public Relations Director Chana Kolman. "Look for the Maxx marketing team, who will be hosting several promotions at Colorado State University home games this year."
The CSU® line will be available in retail outlets as well as on the company's website at http://www.maxxsunglasses.com