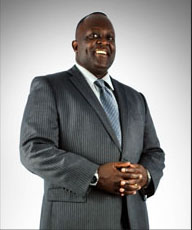 For much of his childhood, Hamilton's family lived without electricity, and food was scarce. Many days he remembers looking forward to going to school just to eat.
Raleigh, NC (PRWEB) August 31, 2012
James Hamilton, a formerly homeless vet, turned multimillion dollar business owner, is on a national business coaching tour to give back to business owners and aspiring business owners. The BOSS Success Tour kicks off at the Capital City Club in Raleigh on September 13th-14th, 2012
James Hamilton is like a lot of other men—a loving husband, proud father, and a simple business man. You might think he's just an ordinary man, running a successful company, until you've heard his story. Born to parents Jonny and Luella Hamilton in the small town of Texarkana Arkansas, Hamilton grew up in extreme poverty.
For much of his childhood, Hamilton's family lived without electricity, and food was scarce. Many days he remembers looking forward to going to school just to eat. He says it was this lifestyle of poverty that opened the door to many emotional and physical hardships, including being molested by a female cousin.
Hamilton's upbringing was anything but a precursor for success. But his desire for a better life led him to escape the projects. And his way out was the US Army. "Joining the Army was the best decision I ever made," says Hamilton.
The military opened a whole new world of opportunity to Hamilton. For the next seven years, he traveled the world—Europe, Korea, Panama, Saudi Arabia—taking in new cultures and experiences and connecting with successful people from all over the world.
After completing his service, Hamilton wanted financial independence. In 1997, he started his first company. In fact, from 1997 to 2003, he started and subsequently closed seven consecutive companies in failure. "Les Brown said 'You will win if you don't quit,'" Hamilton says whenever he talks about these years. This financially trying period eventually took everything from Hamilton, and he ended up in a boarding home, literally homeless…but not hopeless.
However, during this time he also met his wife. And in 2004 they started company number eight together. The two worked hard for four long years, and landed their first big client in June 2008. That year their company made $960,000. And that was only the beginning. Their company continues to grow by double digits every year.
Now Hamilton is on a mission to give back—to teach aspiring business owners to win and to become a BOSS (Be Your Own Success Story). Hamilton, now a national speaker, shares his amazing story of coming up through poverty, serving in the military, and then starting and subsequently closing seven consecutive business before striking success in 2004. He shares what he did wrong and what he did right during those trying years.
Hamilton is currently on the BOSS Success Tour, a series of free events for business owners and aspiring business owners.
For additional information on the news that is the subject of this release, contact Anthony Hall of the BOSS Society.
About the BOSS Society:
Started in 2008, the BOSS Society is dedicated to helping people successfully work for themselves. Eight years ago, James Hamilton a founding member was living on the streets. Today he runs a multimillion dollar company thanks in no small part to his BOSS Society mantra—Be Your Own Success Story. Hamilton gives back by sharing his story and the principles behind his transformation to young, aspiring entrepreneurs across the country.
CONTACT
Anthony Hall
Communications Director
(919) 596-1386
ahall@bosssociety.com