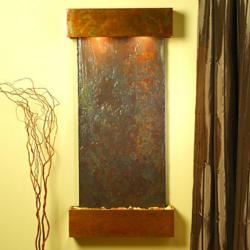 IndoorFountains.com has a water feature to fit any home's style.
Arden, NC (PRWEB) August 31, 2012
IndoorFountains.com, a leading provider of stunning indoor water features, has today unveiled their new line of beautiful indoor water features for both home and business owners. These fountains run the gamut from tabletop options to wall fountains, and all of them bring the beauty, serenity and relaxation of nature indoors.
One of the most innovative options offered by IndoorFountains.com is the ability to customize indoor water features. For businesses, this is a powerful branding solution – virtually any water fountain can be logoed and branded, allowing the company to tie their name to the tranquility and beauty of water and relaxation. From reception desks to waiting rooms and even boardrooms, logoed indoor water features can be versatile business tools.
Of course, homeowners can also take advantage of the new indoor water fountains on offer. For instance, the company now offers a wide range of tabletop fountains designed to provide all the relaxation and enjoyment of larger fountains with a smaller footprint. From elegant and formal to whimsical and relaxed, IndoorFountains.com has a water feature to fit any home's style. Copper, slate, glass, ceramic and even bamboo fountains allow homeowners to achieve the look and feel they want, whether they want to match their existing aesthetic or create contrast.
IndoorFountains.com provides a stunning range of indoor water features for any use. Homeowners and business owners will find the means to create the look and atmosphere they want, whether that's relaxation for the family or stress-relief in a dental waiting room. It's never been easier to bring the benefits of the natural world indoors.
To find out more about the new indoor water features available or the logo services on offer, visit the company at http://www.IndoorFountains.com.
About Indoor Fountains: IndoorFountains.com is a new niche website developed by Kinetic Fountains, located in the stunning Blue Ridge Mountains in North Carolina. The company is dedicated to giving customers the means to enjoy the incomparable beauty of nature and the health benefits offered by running water in the form of indoor fountains, outdoor fountains, logoed fountains and more.