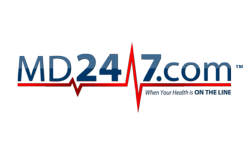 MD247 Reviews Medical Treatment in California.
Tampa, FL (PRWEB) August 31, 2012
Thomas Meehan announced on Monday morning that the leading provider of supplemental telemedicine healthcare was "prepared to decrease overall healthcare expenses through the application of telemedicine."
Thomas Meehan explained that there is a reported 46 million people in the United States without healthcare insurance, beyond the minimum level of emergency room care provided by a 1968 federal law. Meehan explained the law actually causes increases in healthcare expenses across the board, with participating hospitals forcing the expense of free care into other treatment areas.
His contention was that there needs to be a middle ground, or area of compromise, by which the non-emergency medical situations could be treated outside the confines of traditional medical care. MD247 is prepared to offer a viable option, first to residents of the State of California, through the use and application of unique medical services at a distance using telecommunications technology. The medical process is called "telemedicine," and California residents are encouraged to learn more by visiting the new and easily navigable MD247 website at http://www.md247.com.
Meehan invites residents of the Los Angeles area to contact MD247, and request an in-person meeting to discuss both the positive aspects and the negative aspects associated with telemedicine. The discussion is set to include information regarding potential overall decreases to the expenses incurred by the insured, potential applications for telemedicine and how it is possible to become an advocate for healthcare change.
Largo Florida based MD247.COM (MD247; MD/247; MD 247; M.D.247; MD-247) provides an affordable telemedicine supplement to existing healthcare services. MD247.COM telemedicine program members have unlimited telephone access to a nationwide medical support team, all with just a single phone call to the MD247.COM telemedicine Talk to a Doctor/Talk to a Nurse Hotline. MD247.COM has a virtual platoon of registered nurses; board certified physicians and a support staff available to members for all non-emergency situations. More information about MD247.COM is available online at http://www.md247.com.