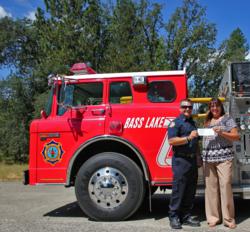 Bass Lake, CA (PRWEB) August 31, 2012
Local charities received almost $1,300 from the Bass Lake Classic Triathlon and 5K run.
Proceeds from the 5K were awarded to not-for-profit organizations that provided the much-needed volunteer group to ensure the race could happen. Volunteers helped with traffic control, parking, course set up and athlete safety.
The Bass Lake Volunteer Fire Department was recently awarded a check for $594 from Rhonda Salisbury with the Yosemite Sierra Visitors Bureau.
"We were glad to be able to provide the fire department with this donation as thanks for their support in providing volunteers to help make the race such a success," said Salisbury. "Next year we'll hopefully be able to give even more."
The Children's Museum of the Sierra was awarded with $350, Yosemite High School Girls Basketball earned $300 and the Boys and Girls Club of Oakhurst received $50.
Registration for the 2013 Bass Lake Classic Triathlon opens October 1 for the race to be held June 1. The field will be limited to 700 athletes for the event.
"We came close to maxing out last year, so be sure to get your entry in early to ensure you have a spot," said Salisbury.
Nonprofits looking for a boost in their funding can again provide volunteers to help with the race. Contact Salisbury at the Yosemite Sierra Visitors Bureau by calling 559-683-4636.
Registrations will be available at http://www.BassLakeTri.com