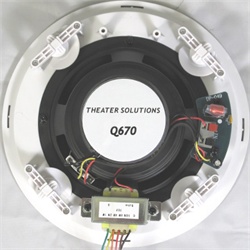 Revolutionary TSQ670 In-Ceiling Speaker from Theater Solutions can be installed in under 30 seconds!
Detroit, Michigan (PRWEB) August 31, 2012
Theater Solutions a Detroit based speaker manufacturer unveils new Quick Release technology in their new commercial speaker line. Being hailed as an installers dream, the TSQ670 70 volt commercial in ceiling speaker is equipped with a mounting system that allows a speaker installation in under 30 seconds!
Here is how the new Quick Release System works: Simply remove the speaker grill with the supplied grill remover. Attach your wires to the speaker and place the speaker in the ceiling cutout hole. Using the small end of the enclosed "L" shaped Install Quick tool, simply push upwards in each of the four mounting holes on the front of the speaker. With a single "Pop" the spring loaded mounting tabs at the back of the speaker rotates 180 degree clockwise and locks to the drywall. To remove the speaker, simply use the other end of the "L" shaped Install Quick tool, insert the tool in each of the four mounting holes and turn counter clockwise. You will hear a "click" when the mounting tab locks back into position and you can remove the speaker.
Perfect for commercial applications, each speaker comes with a 70 Volt Transformer, making it possible to wire dozens of speakers over long distances. The transformer has 5 different tap settings, 16 watt, 8 watt, 4 watt, 2 watt and 1 watt. The speaker also allows the transformer to be bypassed for standard home audio installations.
Boasting 200 watts RMS per pair, the TSQ670 are made with only the highest quality, moisture resistant materials to deliver unsurpassed sound in any listening environment. The woofer is a poly mica 6.5" driver with butyl rubber surrounds. The 1/2 inch pivoting silk dome tweeter pivots while inside the woofer to direct sound at listeners, and its back chamber smooths and extends its performance.
This new commercial 70 volt Quick Release speaker is available on-line at http://www.Onlyfactorydirect.com a featured dealer for Theater Solutions.
About OnlyFactoryDirect.com:
OnlyFactoryDirect.com is your audio resource store. OnlyFactoryDirect.com offers top audio brands at factory direct prices. Get Free Shipping and a 30-day "No Hassle" Guarantee. Affordable. Performance. Guaranteed.
Your life is busy...we get it! You need expert help, fast shipping, and because audio is so application specific, you want a guarantee that will allow you to try the equipment and if it doesn't work, return it without any hidden fees. We offer just that on the best audio brands in the industry..JBL, Mackie, ESP, Alesis, Pioneer, PreSonus, Auralex, Podium Pro Audio, BBE, Mogami, Theater Solutions, Jamo, Numark, and Crate, just to name a few!
OFD has award winning customer service, and the best guarantees on the internet. Don't hassle with a big box store that tries to be everything from mobile to video with audio in between...OFD DOES AUDIO!