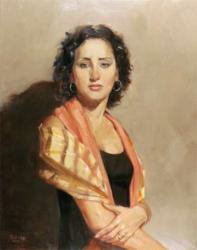 I am truly honored to receive notice of my juried acceptance to this preeminent society artists,so many of whom have been my teachers, and sources of daily inspiration.
Denver, CO (PRWEB) August 31, 2012
Denver's Gallery 1261 is as much an intimate art museum as it is an art gallery. The OPA Western Regional Competition will recognize many of the nation's leading oil painters, working in a variety of genres and subject matter, but whose common theme is pursuing excellence in creativity, tempered by masterful handling of the medium.
The Opening Reception for collectors, press, exhibiting artists and the public will be held October 5, from 5:00 P.M. to 9:00 P.M.. Gallery 1261 is located at 1261 Delaware Street. Denver CO, 80204, phone 888-626-1261.
Over the past 22 years, Saper has delivered nearly 400 commissioned portraits to clients nationwide. She has authored several books, most recently "Classic Portrait Painting in Oils: Keys to Mastering Diverse Skin Tones", filmed 4 DVDs, and is an active speaker, instructor and demonstrator.
Saper is represented by Abend Fine Art Gallery in Denver.