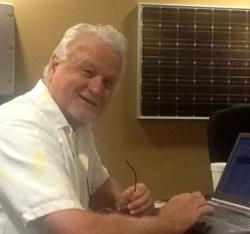 Solar PV...I knew I had to be a part of it.
Murrieta, CA (PRWEB) August 31, 2012
With over 12 years of experience in the solar photovoltaic industry, John Wilson was a natural choice for Ambassador Energy's newest executive position, as leader of the team charged with solar installation sales. On August 29th, 2012, Mr. Wilson accepted the position of VP of Business Development at Ambassador Energy in Murrieta, CA.
John Wilson cut his vocational teeth as an entrepreneur - founding, developing and selling several innovative companies. "I had successfully created a number of my own companies in a variety of industry verticals," Wilson said. "In 2000, when it became clear to me that solar PV was emerging as the millennium's most exciting and opportune industry, I knew I had to be a part of it. And when I recently found Ambassador Energy, with their commitment to quality, NABCEP training, and potential for growth, I knew that this was a place I could hang my hat and make a difference."
After developing sales and sales teams for his own and other solar companies, John now brings his expertise to Ambassador Energy, where he is tasked with building regional sales teams, implementing strategic marketing plans, developing channel partners, identifying profitable market segments and training salespeople, which he calls "solar advocates".
"John brings to us a depth of experience which is rare in the solar business," said Kelly Smith, President of Ambassador Energy. "This industry is so young. We are thrilled to have found a seasoned professional, who can lead our troops in this exciting market. We have given him every tool he needs, including solar leases, amazing pricing, unique financing and great products, so that he can deliver fantastic deals to home- and business-owners, and rewarding careers to our sales professionals. On top of all that, John is interesting, funny and a joy to work with. He even gets brownie points from me, as a U.S. Navy Honorable Discharged Viet-Nam Veteran!"
About Ambassador Energy
Ambassador Energy [AE] has a three-pronged business model, including Ambassador Energy College Solar Training, the Ambassador Energy Agency Program and Ambassador Energy, an EPC contractor. On staff are NABCEP Certified PV Installers, NABCEP Certified PV Technical Sales professionals [Fulgham/Kelso] and multiple NABCEP EL graduates. AE Agencies are nationwide. Ambassador Energy EPC installs PV systems throughout California.
See us on Facebook.