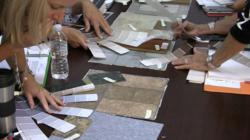 Best Hands-on and in-field program in the industry.
Wanda Colon - HGTV Design Host
Tampa, FL (PRWEB) August 31, 2012
Kim Kapellusch, Owner and Founder of The Academy of Home Staging is proud to announce, the industries' leading Home Staging Certification training program is offering a very special incentive to students who enroll now in The Academy's September Tampa Bay area class. Students who attend will receive an additional full free day of training that will provide them Rental Staging Certification and training on Photography for Home Stagers. The first four students to enroll will receive a FREE Cannon Digital Camera!
Class will be held September 24 – 29th in Bradenton, FL. This special six day class is limited to eight students – enrollment is limited, students should enroll today in order to secure a seat in this session and to claim the limited number of free Cannon Digital Cameras.
In addition to The Academy's leading five day curriculum, complete with three hands on in-field staging exercises and over 10 classroom exercises – students will experience and receive at no additional charge:

Complete training on how to stage a rental property – either vacation or long-term rental. Students will learn the difference in working in the rental market vs. the sales market, the essential elements of rental home staging and how to find clients for this service.
Additional in-field trip to a Rental Property to assess and learn the key elements required in successfully serving the Rental Market.
Digital Photography session for Home Stagers taught by a leading Real Estate Photographer in the Tampa Bay area. This session will focus on digital and video photography for students to build their home staging portfolio and create great photos and videos to enhance their website - essential skills for successful marketing or a Home Staging Business.
This class is being taught by Mary Ellen Fortier, VP of The Academy of Home Staging Trainers and the President and Founder of Decorative Interiors by Mary Ellen.
There has never been a better time to become a Certified Home Stager. The Real Estate Market is showing concrete signs of beginning a turn-around. Home sellers and Realtors are embracing the benefits of Home Staging. According to a study by the National Association of Realtors in 2012, 25% of homes on the market are professionally staged, up from just 5% in 2007. According to a 2012 survey by Home Gain, Home Staging is in the Top 5 items a home seller should invest in in order to sell their home quickly and for the most amount of money. In the same survey Home Gain states Home Staging delivers a 196% Return on Investment to the home seller.
The Academy of Home Staging is committed to consistently delivering the most comprehensive training available. In addition to the added bonus's above, students will experience the complete five day program from The Academy – which includes:

Space Planning – theory and practical application
Color Theory
Coaching and Feedback. Our classes are kept small so that our expert Stager Trainers can provide personalized feedback and coaching to every student throughout the entire course.
On-location Exercises. Only The Academy of Home Staging brings you out into the field to 3 homes where students will learn through practical application while staging a home for sales. Planning out a complete Vacant-staging house plan and proposal, and conducting a comprehensive Staging Consult.
Accessorizing. Students will learn theory behind accessorizing, and then participate in hands-on exercises in accessorizing, in the classroom and then in a Staging Redesign out in the field.
Paint Color Selection. Students will receive their own Paint Fan Deck and learn how to determine which paint for which application in their clients homes. They will learn about the importance of understanding light-reflective-value of paint colors, appropriate primers and more.
How to Set up Your Staging Business. Students will learn our secrets to '30 Days to Starting your Business'. This is a comprehensive plan that students can follow to begin their exciting new career as a Home Staging expert. Guest speakers will participate talking to students about social media and how to utilize it as their key marketing tool. Additionally, each student upon successful completion of their Certification Exam will receive a CD full of sample contracts, marketing materials, proposal sheets and much more. Click here to learn more about The Academy's Hands-on and Location Advanced Certification for beginners.
ABOUT THE ACADEMY OF HOME STAGING: The Academy of Home Staging was founded by Kim Kapellusch in 2005 in the Los Angeles area, and has quickly become the Industries' premier Home Staging and Redesign Certification Training Program. Today The Academy operates in California; Seattle, WA; New York City; Washington, DC and Tampa Bay Area, FL. In addition to its leading classroom certification classes The Academy offers a full CD based course, ongoing education and one-on-one business counseling.
For more information call 1800.574.5576 or visit http://www.TheAcademyOfHomeStaging.com.