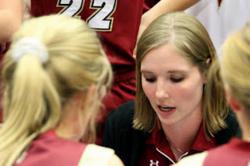 Provo, UT (PRWEB) August 31, 2012
This week on the TalkWorthy Radio Show talk with those who know something you may not about . . . coaching women's basketball!
Head Basketball Coach Cami Oakey joins TalkWorthy radio host Kim Power Stilson to talk about what it's like to go from playing the game to coaching a high school team. Listen as Coach Oakey shares her personal story about the excitement of playing in NCAA tournaments to challenging young players to be good athletes and great people.
As an award-winning talk show host, author of Choose Surthrival, Power Mom, and co-founder of the Prepared Housewives, Kim Power Stilson has given an eMedia PR, and Radio voice to thousands of small and women-owned businesses over the last decade. The TalkWorthy show gives her a chance to share people's most interesting and inspirational stories with listeners.
The TalkWorthy Radio Show's array of guests has included Matt Bird, Harvey Unga, David Pliler, Sean Whalen, Ben Gunn, Connie Sokol, Diamond Donna Root, Jodi Furman, Christian Hong, Ron Williams, Andrew James, Bill Stringham, and Sterling VanWagenen, et al.
Listen to the Talk Worthy Radio Show! Talk with those who know something you may not! Join radio host, Power Mom, author, Kim Power Stilson, as she interviews guests on a variety of topics worth talking about! Listen weekdays at 4 pm Eastern and 2 pm Mountain on SiriusXM Channel 143 BYU Radio at http://www.byuradio.org. For more information about the TalkWorthy Radio Show please visit the TalkWorthy Radio Facebook site or http://www.talkworthyradio.com.