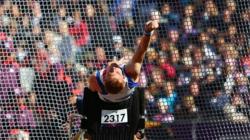 I shouldn't really be here because technically I'm injured and competing with one leg so just to get here was a real achievement
(PRWEB) August 31, 2012
Stephen Miller has vowed to return for a sixth Paralympic Games in Rio - but only after having a new hip fitted first.
The 32-year-old from Newcastle said it "really hurt" to finish 11th in his club final at the London Games but plans to get fit and fight back.
"I don't want to go out like this," said Miller, who has three Paralympic gold medals and a silver in his trophy cabinet.
"Once I get my new hip I'll be back and trying to come back stronger than ever."
Asked whether that would include the Rio Games in 2016, Miller enthused: "Yeah, man. I'm only 32, I'm still a young boy."
Miller is one of the most experienced British athletes and was named as the captain for the men's team in London. But he revealed, only after his event, that a serious injury has hampered his build-up to the Games.
"A few years ago, I was told that I needed to have a new hip." said Miller. "So I decided to put that off to compete at these Games.
"I've had to go through a lot of pain but everybody has helped me so much, the doctors and the physics.
"I shouldn't really be here because technically I'm injured and competing with one leg so just to get here was a real achievement.
"But it still really hurts to go out the way I did."
There were more positive news in the field for Welshman Aled Davies, who at the age of 21 was making his Paralympic debut.
Davies landed Britain's first athletics medal of the Games as he threw 13.78m in the 42/44 shot put class.
"It's definitely going to be the first of many," Davies, sporting Union flag stud earrings, predicted.
"We've got such a strong team and I really wanted to come out here, do everyone proud and show the crowd I can make an impact.
"I'm overwhelmed to get a bronze. I think the crowd carried me there though."
Even better news for medal-hungry British athletics fans and for Davies is that he still has his main event to come, the discus, on Sunday.
"I'm looking forward to some big throws in the discus," said Davies. "I want to throw close to 50m but we'll see what we can do on the day. Home advantage maybe?"