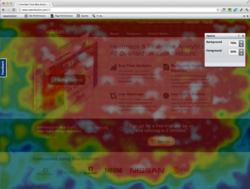 Los Angeles, CA (PRWEB) August 31, 2012
SeeVolution, providers of real-time website analytics, recently introduced a 'Heat map' tab to their custom toolbar and a faster, more efficient loading time to their heat map overlays.
The toolbar overlay is unique to Seevolution and allows webmasters to customize their site in real-time, without navigating away or logging in elsewhere. This toolbar appears at the top of the site owner's screen and gives them immediate access to the site's real-time analytics and heat map images recorded.
The new 'Heatmap' tab will give users access to their choice of four maps: click, scroll, live click and mouse movements--all clearly showing the metrics of user behavior.
A click heat map is designed to offer visual images of where the site user has clicked including, images, links and objects with the added option to see if the user has clicked any dead space.
Another option for website owners is a scroll heat map. This display tracks the scroll changes on a site and measures user engagement based on their scrolling behavior. Scroll heat maps also take into account screen size and resolution--which welcomes more accurate data.
Live click heat maps show user clicks on a website as they are happening, allowing for website owners to see immediate reactions to site changes and develop accordingly.
Finally, mouse movement heat maps utilize eye tracking--a technology that is based on the recordings of a user's mouse movements throughout their site. A site owner is able to see hot and cold spots, making site layout decisions much easier.
"We have optimized the toolbar design to better fit our clients needs," said Eitan Zimerman, SeeVolution's Director of Systems and Search. "This design also has a rapid response time which allows our heat maps to load at a much faster rate."
SeeVolution offers website owners a unique, intuitive experience that instantly grants them access to the real-time behavioral analytics of their website users. The company's innovative product and growth have earned them favorable praise from Mashable and other top technology blogs