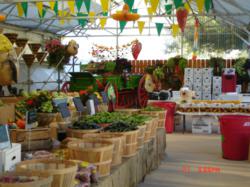 Rapid City, S.D. (PRWEB) August 31, 2012
Jolly Lane Greenhouse is proud to announce their 7th annual Chili Pepper Roast and Produce Market Friday September 14th and Saturday September 15th, 2012. The event will feature chili pepper roasting demonstrations as well as local and regional fresh produce and canned goods for sale.
"We look forward to this event every year," said Tim Sime, owner of Jolly Lane Greenhouse. "We have a variety of fresh produce and delicious canned goods the whole family will enjoy. It's an all around fun experience."
Fresh produce will feature, but is not limited to peaches, tomatoes, pumpkin, squash, onions, cantaloupe, corn, apples, pears, pumpkins, and more.
Canned goods such as preserves, jellies, salsa, relishes, and pickled vegetables will also be abundantly available.
Bring the whole family and have a wholesome and delicious autumn experience. For more information on Jolly Lane Greenhouse visit http://www.jollylane.com/greenhouse.
About Jolly Lane Greenhouse
Jolly Lane Greenhouse is open all year, providing novice gardeners and experienced green thumbs alike with high-quality seasonal plants, trees, and herbs, seasonal decorations, and expert advice on landscape design and plant care. For more information about the Rapid City garden center, visit http://www.jollylane.com/greenhouse/.