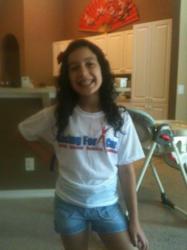 I own my arthritis, it doesn't own me!
Port Charlotte, FL (PRWEB) August 31, 2012
The town of Port Charlotte has taken it upon themselves to help find a cure for juvenile arthritis. Inspired by ten-year old Ana, whose life was changed dramatically two years ago with her diagnosis of juvenile arthritis, the Jackson Sign Shop in Port Charlotte decided to make a difference.
"We're not the kind of people who just sit on the sidelines," said owner Kevin Jackson, who recently returned from braving the Amazon to raise funds for cancer research. "We heard what Ana was going through and knew we had to help in some way."
With Ana's fight with juvenile arthritis weighing on their minds, they set out to help cover her medical bills by printing bracelets at their own expense and selling them to raise funds and awareness. "We are so touched with the response from the community," said Ilea, Ana's mom. "It means so much to feel the love and support in this difficult journey."
One anonymous donor gave $300 for Ana to get a new wheelchair and the bracelets continue to raise funds everyday.
However, the story doesn't end there. After hearing what the community was doing for her, Ana had a better idea: she and her family asked that funds raised on her behalf instead go to charity. In her usual positive spirit Ana said, "I own my arthritis, it doesn't own me!" She is inspiring her community and the world with her bravery.
In response, the community also started a website, donated by 24-7 Tech, called http://helplittleana.com Here you can donate to the effort.
Ana and her family have decided to split all the funds raised between the Arthritis National Research Foundation, which funds arthritis research to find a cure, and Camp Boggey Creek, which is a camp for kids with all kinds of childhood diseases. The camp is a place where kids with similar diseases can come together and find support. "We would rather see money put towards research to find a cure for this ugly disease," said Ilea. "No more kids need to suffer like this."
Ana's story has touched those involved with the Arthritis National Research Foundation, a foundation committed to finding a cure for the different forms of arthritis. The Kelly Award for Juvenile Arthritis Research ensures that each year we make progress towards finding a cure for juvenile arthritis. To make a donation directly to The Kelly Award visit http://CureArthritis.org
Since 1952, the Arthritis National Research Foundation has been committed to funding the next generation of arthritis research scientists by providing grants to promising young investigators with innovative research projects. Arthritis is the leading cause of disability from which 50 million Americans, including 300,000 children, suffer.