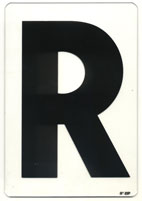 The Zip Change brand offers us a larger selection of difficult to find sizes
Gap, PA (PRWEB) August 31, 2012
Alphabet Signs, a leading supplier of changeable letters for marquee signs, has recently added the Zip Change brand to its huge sign catalog. Zip Change sign letters have been manufactured by Wagner Zip Change in Melrose Park, IL since 1942 and are still popular with customers trying to promote their business today.
The Zip Change marquee sign letters are available in a wider variety of sizes and colors than other brands. Wagner Zip Change has a huge inventory of sizes and colors in stock that can ship within days.
Daniel Keane, president of Alphabet Signs said, "Customers call us and they are notably frustrated because they cannot locate the very small or very large changeable marquee letters. The Zip Change brand offers us a larger selection of difficult to find sizes."
Zip Change sign letters are carefully crafted with a high impact acrylic panel and screen printed with UV inks. The zip letters are then clear coated to make them scratch resistant.
Wagner Zip Change has a long company history dating back to 1928. Irwin Wagner, known as the father of changeable copy letters, maintained outdoor signs for his customers. He noticed a need for changeable letters and started carrying glass, aluminum and wood letters.