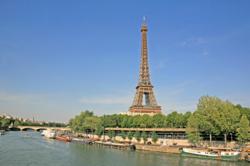 The group will visit quaint towns, iconic chateaus, magnificent castles, splendid cathedrals and the poignant Normandy Landing Beaches.
Westminster, MD (PRWEB) August 31, 2012
Travel & Tours Unlimited, Inc. announced that its river cruise group sailing on the River Seine from Paris to the Normandy Beaches is forming. The travel agency recently held a river cruise night where a presentation was made by a representative of Avalon Waterways, the popular river cruise line. The cruise group currently totals about 20 people, and additional space is still available to join the group.
River cruising, with its smaller ships able to visit large cities as well as quaint towns and villages, is currently a hot trend, a very convenient way to see Europe and quite different from large ship ocean cruising.
The cruise group will fly to Paris and board Avalon Waterways' ship, the Creativity, on May 28, 2013 for the 8 day / 7 night cruise. The group will visit such destinations as Vernon, Rouen, Les Andelys, Conflans and the Normandy Beaches. Highlights will include a welcome reception in Paris, excursions to Chateau de Malmaison, Claude Monet's house, the Bizy Castle, Chateau Gaillard and a sightseeing tour of the iconic landmarks in Paris.
As an available option, members of the group may stay for an extra night or two in the "City of Light" (Paris) to explore this romantic city in more detail.
The group will be escorted by owners of Travel & Tours Unlimited, Inc., Laurie & Jerry Martz. The couple have escorted numerous cruise groups to Alaska, Hawaii, Europe, New England and the Caribbean. Laurie Martz is a Master Cruise Counselor.
According to Laurie Martz, now is a good time to reserve a stateroom on the cruise ship to have a better chance of getting your choice of room category as space on the smaller river cruise ships is limited and availability tends to evaporate before the holidays.
Travel & Tours Unlimited, Inc. specializes in all types of cruises, tours and vacation packages. Its goal is to "help their clients' plan their best week of the year – their vacation!" The agency has been designated as an Authorized Disney Vacation Planner by Disney, a gold level Certified Sandals Specialist by Sandals and a Master Cruise Counselor by the Cruise Line International Association. Visit them at http://www.TravelToursUnlimited.com.