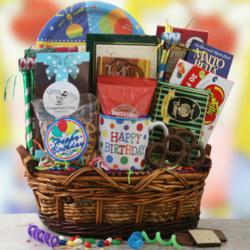 "Delivering Happiness in a Box Since 1998"
(PRWEB) August 31, 2012
The first step in the process is figuring out what type of theme to base the basket on, as this will decide which items will go into the basket. Gourmet, over the hill, spa and party packages are some of the most popular themes. Gourmet lovers will truly appreciate a basket filled with delectable gourmet goodies. Red and white wines make a great start for any gourmet basket. Pair these items with cheese, crackers, gourmet meats and chocolates to make a great presentation. Over the hill themed baskets are always great to get a laugh on their special day. With so many over the hill themed items available filling a basket should be an easy task. Hats, candles, mugs and various candies all over the hill themed make great additions to the gift. Place all the items into a black basket or even a coffin shaped black box for a great finishing touch.
Send them the gift of relaxation with a spa themed basket loaded with items to make sure that they get some much needed pampering this year. Shower gels, bath fizzers, body crème, lotions and bubble bath all in their favorite scent is sure to have them relaxing in no time. Adding a bottle of wine or sparkling cider along with some gourmet chocolates will make your gift extra special.
Sending a party package is a great way to make sure that they will have plenty of great goodies to share with friends and family. Felt happy birthday hats, birthday poppers, horns, silly string and musical candles are sure to get the party started. Make sure to load the box with enough snacks for several people. The choices are endless but items like cookies, popcorn, pretzels, giant lollipops and jelly beans all in birthday themed bags and wrappers are perfect for this type of gift. With endless themes and items available making a birthday gift basket is a fun and thoughtful way to say Happy Birthday to that special someone.
GiftBasketsPlus.com offers a stunning array of birthday gift baskets and baskets for every occasion, theme, or holiday. GiftBasketsPlus.com has been delivering the finest gift baskets since 1998. In addition to birthday gift baskets,GiftBasketPlus.com also offers gourmet baskets, organic gift baskets, kosher baskets, spa gifts, corporate baskets, thank you gift baskets, romantic gift baskets and even gift baskets for pets.