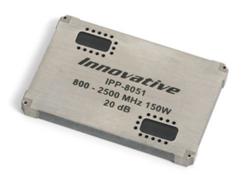 Holbrook, NY (PRWEB) August 31, 2012
The IPP-8051 is a unique broadband design which provides separate coupled ports for both forward and reflected signals with internal Terminations. This coupler is produced in a Surface Mount (SMD) package size of 1.50 x 1.00 inches. Insertion Loss is less than 0.40 dB, main line VSWR is less than 1.25:1, coupled flatness is +/- 0.85 dB and directivity is greater than 20 dB.
Delivery: 4 – 5 weeks ARO. For pricing or additional information, please contact the Sales Department at 631-563-0088, or email us at sales(at)innovativepp(dot)com.
IPP is a designer and manufacturer for applications in the [RF and Microwave industries, and offers a variety of broadband, high power couplers, combiners, RF power resistors and terminations operating up to 6 GHz. Our RF Resistors, Terminations and 90 degree Drop-in Hybrid Couplers are RoHS compliant. View our recent product announcements.
Innovative Power Products designs and manufacturers High Power 90 Degree Couplers, Broadband Directional Couplers, Combiners, Resistors and Terminations for the RF and Microwave industries.