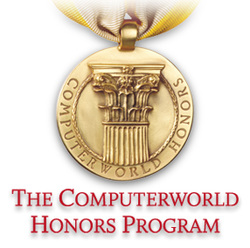 Lansdowne, VA (PRWEB) August 31, 2012
Dextro, LLC is pleased to announce that it was recognized as a Computerworld Laureate for its work to develop and implement a large-scale training project in Latin America. Held on June 4, 2012, the Computerworld Honors Awards ceremony and gala celebrated industry leaders who had utilized technology to make measurable differences in advancing society. Dextro's winning project was a large-scale education and training initiative which reached over 500,000 people and businesses in Latin America. The project resulted in increased overall employment, productivity and sustainability for small to medium-sized businesses in Latin America.
According to Nadja Giuffrida, CEO of Dextro, LLC, "the objective of this project was to measurably improve market and social conditions within a challenged economy." Dextro's approach to deliver education and training in unique ways is a key part of the Computerworld Laureate criteria. "What the Computerworld Honors Laureates so clearly demonstrate is technology's role in moving society forward. Computerworld acknowledges and applauds the outstanding work being done by individuals and organizations who have successfully used technology to improve the quality of our lives and that of future generations," said John Amato, Vice President/Publisher of Computerworld.
Dextro, LLC is an IT consulting and training company based in Landowne, VA (a suburb of Washington, DC) and Mexico City, Mexico, that specializes in large-scale training and education projects for Latin American Governments and Latin American industry. Because of its cultural expertise and large network of Latin American Government and industry leaders, Dextro, LLC is consulted for private and public sector projects in Latin America.