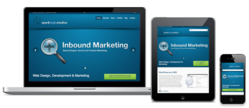 ...we couldn't be happier about our growth and to have Jon and Sean onboard.
Minneapolis, MN (PRWEB) August 31, 2012
It seems Spark Logix Studios can't be tamed as the responsive web design and inbound marketing company continues to lengthen its reach and hire new team members. Two of the newest people to join the Spark Logix group are Jon Ramsey and Sean Roberts who will work as project manager and lead WordPress developer respectively.
Ramsey, who grew up in Minnesota, has an eclectic background with experiences that range from filmmaking to quantum physics and, most recently, search engine optimization and web design.
"I'm very excited to join the Spark Logix team," said Ramsey. "I love learning new things and helping clients meet their needs, which I think will serve me well in providing the top-rate customer service Spark Logix is known for."
Ramsey admits every day is different when you work as a project manager in the dynamic world of web design and inbound marketing; however, he says he is up to the challenge and proud to be part of a business so committed to staying on the cutting edge of its industry.
Roberts, who has a BA in arts, entertainment and media management, has several years experience working as a WordPress developer and has expanded his skills into responsive web design. He is using his expertise to help enlarge Spark Logix Studio's Colorado branch and to provide the business' clients with websites built to drive targeted traffic and deliver excellent user experiences.
"My goal is to help Spark Logix Studios grow to an even greater level," Roberts remarked. "I've long ago committed myself to the best SEO and design practices, and I'm thrilled to be working for such a forward-thinking company that shares my vision."
Currently, Spark Logix Studios has offices in Ham Lake, Fort Collins, and Minneapolis, and they claim to have no intentions of stopping soon. "Naturally, we couldn't be happier about our growth and to have Jon and Sean onboard," said company founder, Rob Benson. "But, what we're most pleased to share with people is that many of the strategies we're using to succeed are things we also provide our customers, such as SEO, social media, responsive web design, and more -- so, our clients can enjoy results similar to ours."
Although Spark Logix Studios specializes in Colorado and Minnesota web design and inbound marketing, they welcome clients from across the country. Visit their website or contact one of their offices for more information.