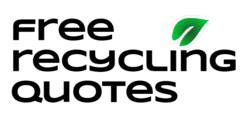 Many businesses, schools, hospitals, and governments have electronics piling up in warehouses or in storage units and do not know the appropriate steps to recycle
Atlanta, GA (PRWEB) August 31, 2012
Free Recycling Quotes in Atlanta is excited to announce they have recently launched their new website, http://www.FreeRecyclingQuotes.com. The site offers easy to schedule pickups and recycling quotes for electronics, metal, plastic, and paper.
The list of countries taking steps to improve environmental regulation over electronics waste and recycling processes is increasing. The continents of North America, Europe, and Australia are leading the way by raising the standards for recycling. Electronics are the fastest growing type of waste, but the most alarming fact is that experts estimate only 10 percent gets recycled. Electronics recycling has been propelled into the spotlight with recent stories of landfill dumping in developing countries. Governments have now passed new laws banning electronics waste from being dumped into landfills.
The United States has improved electronics recycling processes with the establishment of R2 certification through the support and guidance of the EPA (Environmental Protection Agency). The European Community has also improved electronics recycling processes through the WEEE (Waste Electrical and Electronic Equipment) Directive which sets collection, recycling and recovery for all types of electronic goods. In Australia, the National Television and Computer Recycling Scheme combines government regulation and industry initiatives to responsibly collect televisions, computers, printers, and computer products.
In each of these continents and countries, households and business are encouraged to drop-off electronics for free at designated permanent collection points, take-back collection events, or through a mail-back recycling. To support and get involved with these programs Free Recycling Quotes has launched a new website in the United States that services over 60 cities and has expanded into 35 additional cities in Canada, Australia, and the UK (United Kingdom).
"Scheduling a recycling pickup online or by phone has never been easier," said company president Gareth Amon. "Many businesses, schools, hospitals, and governments have electronics piling up in warehouses or in storage units and do not know the appropriate steps to recycle. Free Recycling Quotes provides recycling in 3 easy steps. First you select the city or area you are located in and enter the types of materials you need to recycle. Second, you will receive a custom quote that encompasses the entire scope of your recycling needs. This includes everything from scheduling a pickup to receiving a certificate of recycling. Third, once you confirm details and pricing Free Recycling Quotes will handle all aspects of the recycling service and provide detailed reports once the recycling is complete," added Mr. Amon.
Businesses, schools, hospitals, and governments can also get certificates of recycling that ensure all environmental laws are followed and no material ends up in landfills. Free Recycling Quotes also provides recycling services for over 10 types of material and are experts in recycling electronics, metal, plastic, and paper.
Free Recycling Quotes collected over 30 million pounds of electronics to recycle since its launch. Free Recycling Quotes helps reclaim valuable materials from old computers, laptops, cell phones, and monitors to reduce the need for mining raw materials.
About Free Recycling Quotes
Companies and people trust and use FreeRecyclingQuotes.com as their one stop source for the recycling. FreeRecyclingQuotes.com is dedicated to helping companies and organizations become green by providing them the highest quality recycling services. FreeRecyclingQuotes.com helps save the environment by providing expert advice to businesses of any size that need to recycle materials and waste.