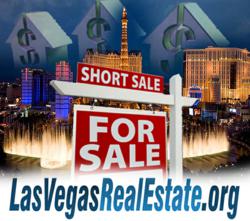 Las Vegas Real Estate Ranked Top 10 Best Investment Opportunities and Possibly #1 in America
(PRWEB) August 31, 2012
Las Vegas real estate market trends for the last 90-days confirms previous rankings from CNNMoney, Inman News and MarketWatch for top 10 places to invest in real estate. August 2011 presented the largest volume of sales in 5-years with almost over 48,000 Las vegas homes and condos being purchased. While almost 50% of homes for sale in Las Vegas are being purchase all cash, the Las Vegas High Rise market is seeing 90% cash buyers. Trulia price-to-rent ratio research confirmed by LasVegasRealEstate.org places Las Vegas homes for sale as #1 in America.
Ashley McCormick of Realty One, Nevada's #1 Las Vegas real estate company, says buyers and investors are doing their research and finding Vegas to be a global brand that is undervalued. McCarren airport is on track to have a record breaking year of over 40-million passengers with a notable increase over last years foreign traffic. Terminal 3 opened in June 2012 and is making Las Vegas more accessible to international travelers as it has become one of the most affordable hubs in the USA. Not only are more people using Las Vegas as a hub or quick get-a-way, they are buying and investing in second homes, lock-and-leave properties and cash-flow income rentals.
Las Vegas consistently makes the Top 10 lists such as TripAdvisor.com "Food & Wine Destinations" and CNBC "Most Diverse Cities". Vegas is also becoming a popular choice for internet companies such as Zappos.com and was sited in the Top 10 cities for 4G wireless. USNews recently listed Las Vegas in the Top 10 "Sunniest Places to Retire" in which McCormick points out that there are four active-adult Sun City Las Vegas communities with homes starting as low as $100K. According to the annual tourism report the average Las Vegas tourist spent more and stayed longer in 2010 and 2011, a positive sign for the city's tourism industry. With the average cost of a vacation package in 2010 at $651 and holding thru 2011, Vegas may be the best deal for travel and entertainment.
McCormick says that Las Vegas owes an unrecognized amount of its success to the service industry. Earlier this year at "Preview Las Vegas 2012" it was predicted that Las Vegas would have a record year for tourism of 40-million visitors and positive growth. While the low airfare and affordable luxury resorts get them to Las vegas, it's the service industry including bellhops, valets, waitresses, bartenders and concierges that make there stay unparalleled in experience. For those investing in Las Vegas homes for sale and condos for rentals, it's this same industry that make up a large part of the rental population filling their rental properties.
The data from the Local Market Monitor, a research firm in North Carolina, showed future return estimates in comparison to the national average projection. It revealed that real estate investors in Las Vegas will earn a 4.7% higher return on investment for properties that they rent out than the national average. Investors that are entering this real estate market may have the potential for higher profits. Some of the newer subdivisions like Lake Las Vegas have condos on the market for under $50,000.
In May 2011, The National Association of Realtors reported that investment home purchases had increase to nineteen percent. This was a two percent increase from 2010. A survey done by the Local Market Monitor confirmed that the profits earned by investors in Las Vegas were higher than anywhere else in the nation. The survey included 316 real estate market estimates and their return on investments. Las Vegas was among the top 10 which includes popular subdivisions such as Summerlin homes for sale.
With online property search, pictures and virtual home tours, more local buyers familiar with the area along with repeat foreign investors are shopping online. LasVegasRealEstate.org allows potential investors or home buyers to set parameters and sends alerts once a new listing or Las Vegas foreclosures comes up in that area. When they find a property they wish to acquire they can contact McCormick by email or by phone to write the contract. McCormick says it is common practice today for the entire process from loan documents, appraisals, and home inspection reports to be sent by email.
McCormick recommends online buyers at least make one trip to Vegas before jumping on the internet buying band wagon. Some visitors that are looking for a second home and want to be away from the strip may find Lake Las Vegas real estate very appealing, which is easy to overlook online. In contrast a buyer interested in a Las Vegas high rise condos for sale normally choose a tower and know exactly want they want and what view. All current Las Vegas real estate MLS listings of over 4,000+ Las Vegas homes for sale can be viewed at http://www.LasVegasRealEstate.org