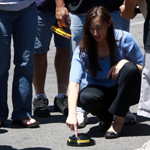 [The students] will view, participate, raise their virtual hands, ask questions, take quizzes
Murrieta, CA (PRWEB) August 31, 2012
Online students will now have the ability to connect electronically to the classroom during regular class hours. From anywhere in the world, they will be able to participate virtually, via the internet, just like the students in the brick and mortar classroom.
"This online option will take quite a bit of financial burden off students who would have had to travel to Southern California," said Catherine Kelso, Director of Training for Ambassador Energy. "They will view, participate, raise their virtual hands, ask questions, take quizzes…I imagine they will even take potty breaks like everyone else. They will have to be very present, though. The first class we are offering is not easy. Anytime you are training for a NABCEP test, you can count on having to pay attention."
The first online class offered will be Entry Level PV Design & Installation, a five-day solar training course. In this solar training course, students learn how photovoltaic (PV) systems operate, as well as, basic system design and safety practices. The course covers basic electrical terminology, PV system components, solar fundamentals, sun path tracking, basic system design, string sizing, site evaluation, shade analysis, system sizing, over-current protection, grounding basics, electrical and mechanical design considerations and OSHA safety standards. Also included in the course curriculum is a hands-on solar project, where students install a complete PV system, albeit for some, virtually.
This particular Ambassador Energy course prepares students for the NABCEP Entry Level Exam, which is administered on the last day of class for those who attend the classroom training. For those taking the course virtually, a test site will be arranged.
This and other Ambassador Energy solar course information may be found at Ambassador Energy College.
About Ambassador Energy
Ambassador Energy [AE] has a three-pronged business model, including Ambassador Energy College Solar Training, the Ambassador Energy Agency Program and Ambassador Energy, an EPC contractor. On staff are NABCEP Certified PV Installers, NABCEP Certified PV Technical Sales professionals [Fulgham/Kelso] and multiple NABCEP EL graduates. AE Agencies are nationwide. Ambassador Energy EPC installs PV systems throughout California.
See us on Facebook.