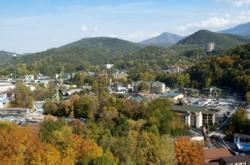 (PRWEB) August 31, 2012
The Gatlinburg Convention and Visitors Bureau has made it easy for travelers looking for information on Gatlinburg and the Great Smoky Mountains to learn more about this exciting destination by developing a user friendly website section.
Visitors to http://www.gatlinburg.com can click on the Experience Gatlinburg icon and dive into a rich selection of feature segments highlighting both the downtown elements of a visit to the foothills of the Smokies and highlights of Great Smoky Mountains National Park.
The Charm of Gatlinburg is highlighted in a feature section focusing on the many options for memory making in town as well as the Great Smoky Arts and Crafts Community and Arrowmont School of Arts & Crafts, which each receive a piece of the spotlight.
Guides are written for both the outdoorsman and the family. Learn about shopping, fishing and navigating through the many offerings of Gatlinburg. Activities and attractions are also given a fair amount of attention.
Stories and comments from other visitors, pictures of everything imaginable and entertaining videos spotlighting the fun and adventure of Gatlinburg further enhance the experience of the novice who has a curiosity about Gatlinburg as well as the expert who might just learn something new.
There's even an Interactive Fun section, complete with a quiz, a tour of the Smokies and a chance to design a wedding invitation.
The newest section of Experience Gatlinburg focuses on the magnificent scenery and fall beauty of the Smokies and highlights the Roaring Fork Motor Nature Trail, the perfect complement to the Cades Cove section which debuted this summer.
Starting in mid-September, weekly fall foliage updates will be featured on the http://www.gatlinburg.com website and in the Experience section as well as on the Gatlinburg, Tennessee Facebook page.
The curious can learn all about one of the most visited vacation destination destinations in America by taking time to Experience Gatlinburg.