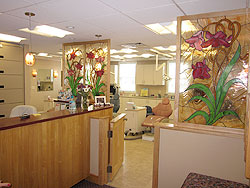 We are known in the community for delivering the highest quality of personalized orthodontic care, by a highly skilled, experienced team.
Wilmington, MA (PRWEB) August 31, 2012
Dr. Rachel Perlitsh and her experienced office team at Wilmington Orthodontics are excited to announce the posting of a Facebook page as an additional method to communicate with and to educate their patients and the community.
The Wilmington Orthodontics Facebook page features information on good oral hygiene and nutrition, updates on current research studies, and general dental education. The Facebook page will also be used to communicate general office information, contests and theme days.
Increasingly, through the use of Facebook pages, businesses are establishing additional modes of communication with their clients. "Using social media is a natural progression for us to continue our close communication with our patients and the community, and it shows that our genuine caring and compassion for our patients is part of what makes Wilmington Orthodontics such a special place," says Dr. Perlitsh. "We understand the importance of communicating properly with our patients so that they completely understand their treatment and what is happening at every visit," adds Dr. Perlitsh.
Wilmington Orthodontics considers themselves at the forefront of dental technology utilizing digital imaging and the highest quality brackets and wires. All laboratory appliances are fabricated in house by a highly experienced lab technician. The office also provides 24 hour emergency care if any problems arise.
"We encourage our patients and the Wilmington community to join the Wilmington Orthodontics' Family on Facebook - and please remember to click on the "LIKE" button," adds Dr. Perlitsh.
About the practice
Dr. Rachel Perlitsh has been practicing orthodontics since 1994. Dr. Perlitsh received her D.M.D. degree and her Certificate in Orthodontics from Tufts University School of Dental Medicine. Dr. Perlitsh also completed a residency program at Mount Sinai Medical Center in New York City. Wilmington Orthodontics, located at 25 Lowell Street in Wilmington, MA, is known in the community for delivering the highest quality of personalized Orthodontic care by a highly skilled, experienced team. They are proud to deliver exceptional care in a friendly, caring atmosphere. Wilmington Orthodontics has a cohesive team that works enthusiastically together, communicates well and has a clear, common goal. For more information please call the office at 978-658-3310 to schedule a complimentary new patient consultation.