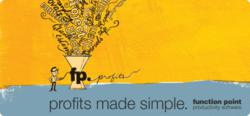 A year's worth of creative business consulting in just three days.
Vancouver, B.C. (PRWEB) August 31, 2012
Function Point Productivity Software Inc. is pleased to announce that it will be a title sponsor of the Mind Your Own Business (MYOB) conference in Nashville, TN from October 17-19, 2012. Business Management Training for the Creative Firm Owner led by David C. Baker.
"Function Point is pleased to be working with David C. Baker and How Design to help provide this amazing content to business owners in our industry " remarked VP of Operations Tate Lillies. "We will be both front and center at the event, and plan on working with David C. Baker throughout the year looking for unique ways to bring additional value to our client base" continued Lillies.
The MYOB conference promises to "give a year's worth of creative business consulting in just three days" so we hope to see you there!
About Function Point
Function Point Productivity Software Inc. (Function Point) is a web-based software as a service (SaaS) company, and is located in Vancouver B.C. The company was founded in 1997 and is a a worldwide leader in CRM, time tracking, invoicing, task, project and workflow management software for marketing companies, advertising agencies, design firms, and interactive web development companies.
The software includes modules for customer relationship management (CRM), creative agency time-sheet and job tracking, project management, purchase orders (PO's), basic insertion orders, expense tracking and invoicing, as well as optional components for client collaboration, online design proofing and an integration to popular accounting packages such as QuickBooks and Simply Accounting. There are currently over 3500 active clients using the system as their primary task management tool.
With users around the world, including Canada, the United States, Brazil, Singapore, Dubai, the UK, Australia, South Africa, the Caribbean, and more, the Company is truly international and continues to work hard at creating the perfect business tool for increasing agency efficiency and profitability. Companies in all facets of the creative industries us Function Point, including ad agencies, digital agencies, Web development companies, interior designers, architects and consultants to name a few.
The company prides itself on its best-in-class customer service, and backs everything with a 60-day, 100% money back guarantee.
Mission Statement
To help improve client profitability by providing a single, integrated solution for managing the day-to-day challenges of running a growing creative firm.