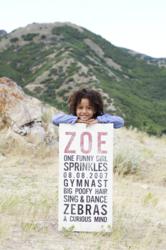 Alpine, UT (PRWEB) August 31, 2012
Jewel Kade is pleased to announce it is going from inspiring your look, to inspiring the spaces you live in. The Alpine, Utah-based company known for its artisan jewelry is breaking all-new ground with the launch of its Poetry Custom Canvas collection September 1. Now you can enjoy artisan canvas prints that celebrate the people, places, and ideas that make you who you are and inspire you to become even more.
Just like Jewel Kade's handcrafted Signature Charms, the Poetry collection is handmade in the JK Production Studios in Alpine, Utah, and is available in two collections: Custom Canvases and Signature Canvases.
JK's custom options include six unique templates that can be personalized in the online JK Studio at http://www.jewelkade.com. Customers will create their own unique canvas by selecting a charcoal or cream background and one accent color, then entering and designing their own content. The possibilities for content are virtually endless – allowing customers to commemorate everything meaningful in life:

Celebrate unique individual traits with the Personality Canvas
Mark life's important dates with the Numbers Canvas
Post favorite quotes or sayings with the Inspiration and Free Form Canvases
Honor the family name (or first names) with the Initial Canvas
Treasure the life's "beginnings" with the Established Canvas
Also available are seven Signature Canvases, which transfer the artwork from Jewel Kade's most popular artisan jewelry to well-appointed handmade canvases, including:
Copper Fleur de Lis
Josie
Large Fleur de Lis
Peacock Peace
Sail Away
Tell Your Story
Zoe
"With the Poetry Custom Canvas collection, now customers can enjoy what they love about Jewel Kade's jewelry – artistic designs and personal inspiration – on the walls, shelves, and tabletops of their living spaces," said Janet Kinkade, JK Founder, President & Designer. "This is an exciting extension of our passion for the purposeful, soulful things in life."
ABOUT JEWEL KADE
Handcrafted charms. Inspiring jewelry. Intriguing décor. Available through JK Stylists nationwide, Jewel Kade is a fresh take on timeless fashion. Founded by Designer Janet Kinkade, Jewel Kade's Signature Charms are all handcrafted in JK's Production Studios in Alpine, Utah. Jewel Kade has garnered national attention – appearing on ABC News, The Today Show, The Ellen Degeneres Show, and American Idol. (Citing media references does not imply endorsement of Jewel Kade products in any way by media, related production companies or related spokespersons/personalities.) As part of JK's charitable efforts, Janet Kinkade has created the JK Cares Collection. For every JK Cares piece purchased, 5% of the proceeds goes directly to help in the fight against diseases that affect millions of women nationwide: breast cancer (Huntsman Cancer Institute) and heart disease (American Heart Association). For more information on Jewel Kade's inspiring story, soulful jewelry and Poetry Custom Canvases, visit http://www.jewelkade.com.