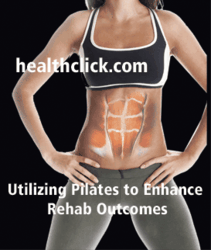 Therapists will understand which Pilates exercises address specific impairments encountered in the rehab setting
Franklin, TN (PRWEB) August 31, 2012
Utilizing Pilates to Enhance Rehabilitation Outcomes is a physical therapy continuing education course online that delivers on demand HD video combined with evidence based clinical information on Pilates. Physical Therapists and Occupational Therapists gain a greater understanding of the benefits of Pilates and how to specifically apply Pilates for Rehab. The focus of the online CME course is to assist the clinicians in mastering performance of over 80 Pilates exercises. Expert Narration by Sara Koveleski-Kraut. DPT leads the professional through proper exercise form and execution. The course is not designed to be a follow along exercise program, but an advanced educational tool. Therapists will understand which Pilates exercises address specific impairments encountered in the rehab setting. The course content in this evidence based online CME course on Pilates is conveyed in an easy to understand, visual manner, which ensures the greatest retention of the course material. Any therapist looking to use Pilates for Rehabilitation will benefit from this online course. Course Participants also receive an Interactive DVD that contains all the movies included in the online course. This DVD is an interactive learning tool that can be used for patient education in the clinical setting or to share with a colleague. Groups of therapists can purchase one DVD, gain instant online access and meet States Continuing Education requirements.
This updated version runs on the Healthclick Learning Management System, a proprietary cloud based application that delivers instant online access to course material. Therapists can instantly access course material, take online tests and print a course completion certificate. This course exceeds requirements set forth by state licensing boards for continuing medical education requirements.
Version 2.0 now optimizes delivery of the continuing education course content for Apple iPad 3.2 or later, Windows Explorer 7.0 or later, Firefox 3.0 or later, Apple Iphone and iPod Touch 2.0 or later, Safari 3.0 and later, Google Android Devices 1.6 or later and Blackberry 6.0 or later.
Additional Case study information is included in this updated version that delivers rehab scenarios were Pilates exercises can be applied in the rehab setting. The Physical Therapist and Occupational Therapist that take this online course will begin the process of mastering these Pilates exercises and integrating them into their evidence based practice.
Teams of Physical Therapists and/or Occupational Therapists can use the Healthclick LMS to access this online training program simultaneously. Entire clinical team can create collaborative learning programs that ensure the entire team meets clinical standards for integrating Pilates into their Rehab programs.
Utilizing Pilates to Enhance Rehab Outcome is pre-approved online continuing education for physical therapists in California, Massachusetts, New Hampshire, Rhode Island, Connecticut, New York, Virginia, Washington, Oregon, Idaho, Alaska, DC, Colorado, Montana, Missouri, North Carolina, Tennessee, Wisconsin, Illinois, Utah
Utilizing Pilates to Enhance Rehab Outcome is pre-approved online continuing education for occupational therapists in Alaska, Arkansas, Delaware, District of Columbia, Illinois, Indiana, Kentucky, Louisiana, Maryland, Minnesota, Mississippi, Missouri, Montana, Nevada, New Hampshire, North Carolina, Ohio, Oregon, Oklahoma, Rhode Island, South Carolina, Tennessee, Texas, Vermont and Virginia
This online CME course for PT and OT also supplements the live training course, Utilizing Pilates Principles to Enhance Rehabilitation Outcomes.