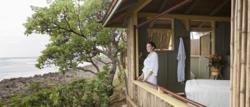 NORTH SHORE, OAHU, HI (PRWEB) August 31, 2012
These treatments are expertly designed with the foremost spa trends in mind – using sustainable, local ingredients; traditional indigenous practices; and sourcing from the sea – to give guests a deep feeling of "pono" – the Hawaiian recognition of the harmony between all facets of well-being. That includes the spa's enhanced wellness program, guaranteed to bring some heat to your hula, yoga and Zumba routine.
Spa Luana's signature services are derived from natural remedies that provide benefits such as relieving the effects of sun; invigorating skin; and detoxifying muscles. This incorporates new products developed from undaria algae, which maintains skin cells by inhibiting the activity of an enzyme that breaks down the hyaluronic acid critical in making skin smooth, elastic and firm. When paired with Spa Luana's private oceanfront outdoor cabana and six treatment rooms, sea time has never been so rejuvenating.
"Spa Luana's new product line relies on the proven seaweed science behind undaria algae oil, which contains concentrated sea minerals rich in B vitamins that firm and minimize redness and inflammation," said Sierra Shore, director of the full-service 7,000-square-foot Spa Luana. "We have also rolled out new signature treatments and wellness programs that rely on time-tested Hawaiian healing practices to provide guests with the relaxation and rejuvenation only found on Oahu's Fabled North Shore."
Spa highlights include:
Body & Skin Care

The Undaria Antioxidant Body Wrap begins with an undaria algae body polish to relieve tension, reduce water retention and open pores, and includes a facial cleanse and massage.
The Chocolate Coffee Glaze combines Hawaiian Cane Sugar with honey to gently exfoliate skin. Natural acids found in organic Kona Coffee and mountain-grown cacao visibly invigorate skin.
The Sea of Life Anti-Aging Facial naturally firms, refines and deeply hydrates, resulting in visibly brighter and toned skin.
Massage Therapies

The Lomilomi Massage is a sacred healing art passed down from generation to generation, integrating the use of palms and forearms in a full-body wellness treatment.
The Pohaku (stone) Massage uses warm smooth stones to relax muscles and increase circulation. The currents of warmth bring a deeper level of release.
The Makai (Seaside) Massage offers guests a selection of Spa Luana's most popular massage services in a private seaside setting while relaxing to the sounds of the Pacific Ocean.
Wellness Programs

The spa's 17 wellness programs integrate traditional Hawaiian exercises into a variety of activities designed to enhance fitness goals and help guests unwind. Increase core strength dancing the popular hot hula, inspired by the dances of the Pacific Islands; break a sweat during an invigorating Zumba class; or tone and strength train with one of five different yoga sessions.
Spa Luana is available for Turtle Bay Resort guests as well as Oahu day spa and salon visitors. For more information or to make an appointment, visit http://www.TurtleBayResort.com, call (808) 447-6868 or e-mail SpaLuana(at)turtlebayresort(dot)com.
About Turtle Bay: There's one North Shore on Oahu. And there's one resort on it. The 840-acre resort is operated by Benchmark Hospitality International and is a Preferred Hotels® & Resorts Worldwide property - a collection of the world's finest independent luxury hotels. For reservations or more information, visit http://www.turtlebayresort.com or call (808) 293-6000.
Benchmark Hospitality International is a leader in the management and marketing of resorts, conference centers, hotels, and Personal Luxury Hotels™. The privately held company, launched in 1980, is a founding member of the International Association of Conference Centers. Benchmark Hospitality is a worldwide organization operating properties in major metropolitan and resort destinations. Benchmark's international headquarters is located in The Woodlands, Texas, near Houston, with regional offices in New Jersey and Connecticut. International offices are located in Tokyo, Japan, and Santiago, Chile. For the location of Benchmark's properties and additional information, visit http://www.benchmarkhospitality.com.