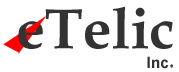 This certification further establishes our credentials and opens new opportunities for us!
Richmond, VA (PRWEB) August 31, 2012
eTelic Inc. announced today that it is has been certified as a Minority Business Enterprise by the Virginia Minority Supplier Development Council (VMSDC). The Virginia Council is an affiliate of the National Minority Supplier Development Council (NMSDC).
"We are very pleased to have successfully completed the rigorous certification process, and we look forward to being an active Minority Business Enterprise for many years to come," said eTelic President Mukul Paithane. "This achievement follows our certification several years ago as a member of the Small, Woman and Minority (SWaM) program of the Virginia Department of Minority Business Enterprise."
According to VMSDC, the organization fosters relationships between minority suppliers and their potential clients: Fortune 500 corporations, government agencies and universities. The council certifies Minority Business Enterprises (MBEs), serves as a resource for corporations searching for qualified suppliers, helps large corporations target and alert suppliers about requests for proposals, sponsors networking events that introduce corporate decision makers to principals at minority business enterprises, offers training programs, loan information and business assistance for MBEs, and gives corporations the opportunity to learn from the best practices of other large businesses.
According to the Council, VMSDC has 103 corporate members and approximately 275 certified Minority Business Enterprises, ranking VMSDC among the largest councils in the Mid-Atlantic region. VMSDC is one of 37 regional councils within the National Minority Supplier Development Council network.
eTelic Inc. was founded in 2004 as a software development firm by former Intel and Oracle executive Mukul Paithane, and today the company provides a wide range of IT and management consulting services to government and commercial organizations nationwide. It also provides cloud based rapid prototyping solution, called Turanto. Based in Richmond, Va., eTelic currently employs more than 25 talented and experienced professionals focused on providing the most effective and innovative solutions for its clients' operations. Primary services include custom software development, organizational transformation and business process improvement consulting, business intelligence, systems design and application architecture, recruiting and staff augmentation.