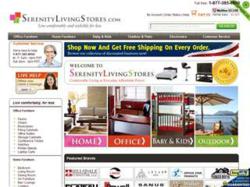 Richmond, BC (PRWEB) September 06, 2012
Serenity Living Stores, an online retailer of furniture for the entire home, is pleased to announce that its product lines include many types of furniture that are designed to enhance the kitchen environment. More than any other room in the home, the furnishings that are used in the kitchen can make a world of difference in terms of functionality. Kitchens without sufficient storage or with storage that is poorly thought out can make cooking such a challenging task that the preparation of meals becomes a chore rather than something to be enjoyed. In contrast, well-designed kitchens, with plenty of storage space, can make food preparation both a pleasure and a highly social activity.
Serenity Living offers sets of coordinated furniture that go far beyond the typical base and wall cabinets that characterize the modern Western-style kitchen. Serenity's kitchen furnishing options also include such items as islands, benches and independent storage units. In keeping with the company's ethos of providing complete solutions for homeowners, Serenity also offers a line of stainless steel sinks produced by Vigo Industries.
Kitchen Storage
No other room of the home needs as much storage space as the kitchen. Widely considered to be the heart of any home, it is the place where family and friends tend to congregate during house parties. A kitchen, however, can look unsightly when too many food items and accessories do not have a home of their own. A cluttered kitchen does not set the tone or give off the kind of impression that most homeowners desire.
Even worse, perhaps, is the fact that a cluttered kitchen is often a dirty kitchen. This results from the simple fact that it is difficult to keep counters and other surfaces clean when it involves moving a great many individual items to the side and then replacing them later.
The most common problem is that many homes have limited square footage in the kitchen. While this does not mean it is impossible to provide adequate storage space, it does mean that homeowners need to search out innovative storage solutions, such as those available from Serenity. Wine racks from Serenity Living, for example, are available in both wall-mounted and freestanding forms; anyone who is pressed for floor space will gravitate toward a wine rack that requires no floor space at all.
Another innovative storage option is the 'might cart' produced by Venture Horizon and available through Serenity. This versatile cart uses a solid construction, but is mounted on casters, so that it can be rolled from room to room as required. As a result, it can become a sort of catchall or even a hostess cart that will be found to be extremely useful when entertaining.
For more information about kitchen solutions from Serenity, navigate to company's website at http://www.serenitylivingstores.com and select 'kitchen' in the 'home furniture' menu.