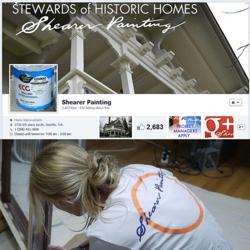 Shearer Painting joins an elite list of certified Fine Paints of Europe Contractors.
Seattle, WA (PRWEB) September 05, 2012
In less than two months, Shearer Painting will become one of few companies in the nation to be certified in the use of Fine Paints of Europe. Fine Paints' Certified Painting Contractor Program ensures that only firms whose workers are very familiar with the products and skilled in their application attain certified status.
A contractor becomes eligible for certification after being nominated by a Fine Paints retailer. (Daly's Paint is the exclusive seller of Fine Paints in Seattle.) In order to be certified, nominees must have worked with Fine Paints products for at least five years, maintain good character, attend a weekend training at Fine Paints' Vermont headquarters, and charge a fair price for top-quality work. During the training, contractors learn in depth about Fine Paints products and optimal application techniques.
Founded in 1987, Fine Paints of Europe is the sole U.S. importer of durable, ultra-high-gloss oil paints and varnishes from the Dutch company Wijzonol Bouwverven B.V. Fine Paints also deals in paint palettes by American designers, formerly including Martha Stewart, the Guggenheim Museum, and is the sole licensee of Pantone Paints.
Although Fine Paints products are now widely used in homes and businesses, their first major application was in the restoration of historic buildings. In 1997, Headlines Salon at Seattle's University Village hired Shearer to paint its storefront black using Fine Paints of Europe. The storefront has required repainting only twice, despite frequent shopping cart and stroller impact, and it retains its original color and luster.
Shearer Painting's extensive experience with Fine Paints of Europe makes it a natural fit for certification. In November of 2012, Shearer will become one of two local certified Fine Paints contractors in Seattle, and one of three contractors Fine Paints of Europe in Los Angeles.
About Shearer Painting
Shearer has been a Seattle painting contractor since 1990, and also maintains an artisan crew in Los Angeles, California the "Myrmidons". Shearer Painting's work has appeared in Traditional Home magazine, This Old House, and LUXE magazine.In addition, the company is an associate member of American Society of Interior Designers, the largest trade association specific to the interior design trade.
Shearer Painting founder, John Q. Shearer, is also a recognized Color Consultant