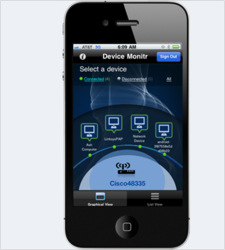 (PRWEB) September 05, 2012
Xoriant Corporation, a leading software product engineering and product consulting services company, has developed a mobile app called Device Monitr to monitor and manage devices connected to Linksys Smart Wi-Fi Routers. The app is available in the Apple App Store.
Device Monitr is the first of a suite of access control apps from Xoriant, developed for Linksys Smart Wi-Fi Routers. The app monitors Internet connected home devices such as game consoles, iPads, PCs, audio/video streaming players, etc and notifies users about their status. Users can enable or disable Internet connection to these devices on-the-go through their iPhones.
The Device Monitr app was built using tools and a software developer kit (SDK) available via the Linksys Developer Community. The app makes remote monitoring of Internet-connected devices seamless. Previously, monitoring devices was exceedingly difficult unless users were on the same network inside a house. Xoriant is initially launching on the iOS platform with plans to make it available on other major mobile platforms in the near future.
"We are excited to be a member of the Linksys Developer Community. The APIs available via the SDK will bring about a new paradigm to monitor and manage connected home devices anywhere and at anytime. Furthermore we believe Cisco's leadership will accelerate proliferation of these types of apps to simplify CE device management as well as enhance and prolong the use of Linksys Smart Wi-Fi Routers," said Girish Gaitonde President and CEO of Xoriant Corporation.
This app is available on Apple's App Store under the Device Monitr name for ninety nine cents. For more information on the app and Cisco's offerings, please click here
For additional features please see: http://www.xoriant.com/cisco-device-monitr-iphone.html
Device Monitr iPhone application __title__ ]