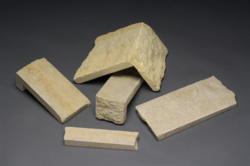 Fort Worth, TX (PRWEB) September 13, 2012
Thin Riviera limestone products are available for both residential and commercial applications. This product is adhered to the wall on a cementitious bed that is applied over a composite lathe of corrugated metal and felt. Using Riviera Thin Stone for interior applications also saves valuable interior space compared to traditional stone products.
Unlike the thicker traditional stone, Riviera Thin Stone requires no supporting footing and is less expensive to install. It is priced competitively with artificial stone typically averaging $.50 to $1.00 per square foot more than artificial stone. Natural stone offers color durability and beauty not available with concrete cast stone. The surface color applied to man-made stone is typically 1/8th inch thick. If this surface color is scratched or chipped it can expose the contrasting color of concrete below the surface resulting in a mottling of the surface color. The colors in Texas Quarries limestone are natural and continuous throughout the stone. And, unlike some painted concrete stone, the colors in real limestone will not fade from sun exposure.
Riviera Thin Stone is offered in a variety of sizes for a random pattern as a standard product but can be ordered in standard dimensional cuts as desired. The product is available in many shades and corner pieces are available to create an impression of "depth". Because it is lightweight, Riviera Stone can be shipped cross-country at competitive rates.
For more information visit http://www.texasquarries.com or phone 512-258-1474.