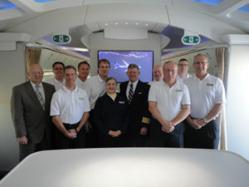 Solar provided vacuum heat treating of flight critical components, mostly made of titanium.
Souderton, PA (PRWEB) September 06, 2012
The first, all-new airliner of the 21st century, the Boeing 787 Dreamliner, landed at Philadelphia International Airport on June 27th for its first visit to the city. As a major supplier to this "game changing" new aircraft, Solar Atmospheres received a personal invitation from Boeing for a private tour.
Solar provided vacuum heat treating of flight critical components, mostly made of titanium. With the majority of the aircraft's weight made up of titanium and graphite composites, the Boeing 787 Dreamliner is the first midsize airplane capable of flying long range with a 20% increase in fuel efficiency. The 787 will allow airlines to open new, non-stop routes preferred by the traveling public. This airplane can leave Philadelphia Airport and fly non-stop to most any other airport in the world -up to 8,200 to 8,500 nautical miles.
Bob Hill, President of Solar Atmospheres of Western Pennsylvania  explains, "Your first impression of the aircraft is how large and majestic it is. While climbing the boarding stairs, the sweeping and extremely thin all-composite wing was most impressive along with the massive 100,000 pound thrust dual Rolls Royce engines.
As soon as you enter the plane, it is obvious that you are someplace special. The spacious, cathedral-style entrance is akin to the welcoming lobby of a hotel- not just a tube and turn right. The soft tone LED lighting combines for a fantastic flying environment. The overhead luggage bins are huge (4 roller boards can fit in one bin). The seats in both business class and coach are more comfortable and offer more legroom. The lavatories in coach offer more room than any other aircraft. The windows are substantially larger thereby offering outstanding views even when sitting in the center of the two aisle configuration. The electronic dimmer controls within the glass of the windows eliminates the clunky shades. There are rest quarters (called tree houses) located in the front for the pilots and in the aft for the flight attendants. The most thrilling part of the tour was to actually sit in the cockpit which has a HUD (heads up display) that provides the pilot with critical information without looking at his or her instrument panel."