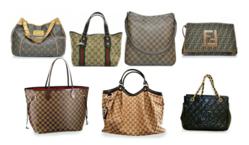 Well-loved authentic luxury handbags never lose their value.
Destin, FL (PRWEB) September 02, 2012
LuxExchange, a consignment boutique that offers authentic designer handbags and accessories, recently opened its door in Destin, Florida to offer shoppers in the surrounding areas access to luxury products that were otherwise inaccessible. The high end items from designers such as Fendi, Chanel and Gucci make the perfect birthday or anniversary gift that will last for a lifetime.
"Well-loved authentic luxury handbags never lose their value," said Melanie Schweizer, owner of LuxExchange. "When you invest in a luxury designer handbag from Louis Vuitton, Prada, Chanel, Gucci and others, you own a handbag that will last forever."
The staff at LuxExchange are experienced in designer accessories and fashion. They excel in helping customers locate their favorite brands and match any outfit with the perfect accessories. Customers who enjoy the quality of designer brands often make the best consignors. LuxExchange offers an advantageous consignor program and is happy to accept authentic preowned items on consignment that match the standards of quality and style that LuxExchange offers in all its merchandise.
LuxExchange opened its doors to shoppers and consignors on April 5th and has plans to launch a new website, myluxexchange.com, which will feature a complete inventory and photos of the designer shoes, handbags, sunglasses and accessories that are available at the Destin, Florida boutique in the City Market shopping center. For complete information about all LuxExchange products or to place high end handbags or accessories on consignment, visit their new website at http://www.myluxexchange.com or call (850) 424-7772.
About the company:
LuxExchange opened on April 5, 2012 and is located in the City Market shopping center in Destin, FL. LuxExchange is a high end luxury consignment store where one can buy, sell and consign high-end authentic brands of handbags, women's shoes, fashion jewelry, sunglasses and women's watches. For more information stop by 36150 Emerald Coast Parkway, Destin, Suite 103, FL 32541, check out the website http://www.myluxexchange.com or call 850-424-7772. LuxExchange is bringing authentic luxury high end bags and accessories at a discounted rate nationwide.