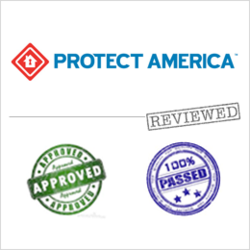 Protect America is a great choice and led the DIY alarm system industry. They continue to push the industry forward and deserve to be at the top of our list.
Reston, VA (PRWEB) September 10, 2012
The results are in and once again Protect America is one of the top home alarm system companies. Throughout the years, this company has consistently provided superior products to more than half a million Americans nation-wide.
AlarmSystemReport.com rates them high on their list for their ability to consistently keep up with the latest technologies. In fact, many people feel that Protect America has been the driving force behind the industries focus on improving home security technology.
This company currently offers two way voice monitoring, wireless setup, cellular monitoring systems, and home automation. They've even kept more technologically up-to-date than top companies like ADT. For this reason, you'll note that home alarm system review sites like AlarmSystemReport.com are ranking them above the competition.
In addition to Protect America's superior technology, this company also offers great pricing. Protect America has been said to have the most competitive pricing model in the industry. Of course their cellular, wireless, home automated systems are going to cost more than another company's broad band monitored system, but for what Protect America offers, you won't find a better value.
The one drawback that top alarm system review sites like AlarmSystemReport.com say Protect America has is its previous customer service record. In the past, this company hired extremely aggressive sales people. These sales folks were more focused on making sales than they were in making the customer experience pleasant for its customers.
As a result of the aggressive marketing tactics of Protect America, their reputation was damaged. These days however, the company is changing its ways. AlarmSystemReport.com did an independent study of Protect America's customer service and found that the company has now shifted away from hard sales tactics and has moved towards a more consultative approach. The site says that, "they've learned their lesson and are now working to correct it".
A good company can be crushed by negative reviews, but a great company will always be improved by them. Positive feedback makes a company feel better and lets them know what to keep, but negative feedback does even more. Negative feedback tells a company what they're doing wrong and what they need to work on.
This has been true of Protect America and they are continuing to get better and better. In fact, many people feel that Protect America will one day be the number one home security company in America.
To see who the best home alarm system company in America is at the moment and read out full Protect America review, head on over to AlarmSystemReport.com.
###