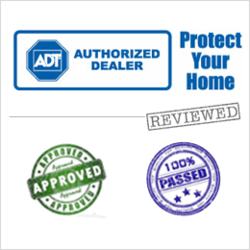 Everyone knows ADT and they're still an industry leader and will continue to be for a long time. They deserve their spot on our list of top alarm system companies.
Reston, VA (PRWEB) September 05, 2012
The ratings are in and once again ADT proves that it is still one of the best home security companies in the industry. Independent home alarm system review companies like AlarmSystemReport.com have found that ADT refuses to yield its spot as one of the top ten security companies on the market.
Background
ADT is the oldest alarm system company in the world and has been in the industry for over a hundred years. For this reason, many people are surprised that this company has been able to stay on top. This is because typically a technology company will be dethroned by newer and more innovative companies.
The experts at AlarmSystemReport.com have done their reviews and have found that while this company isn't always on the cutting edge of technology, they are certainly keeping pace with all of their competitors.
Analysis
This company offers cellular monitoring, wireless home alarm systems, and even home automated technology. AlarmSystemReport.com found that their technology and monitoring systems aren't quite as advanced as the leading alarm system companies, but they aren't outdated enough for average customers to want to switch companies.
ADT also has the advantage of a reputation for having a stellar customer service department. ADT currently has 8.3 million monitored customers and some of them have been with the company for decades. In fact, ADT is so well-aged that many customers have chosen to use them simply because their parents and grandparents use them.
AlarmSystemReport.com praises ADT for being able to manage a large number of customers without sacrificing their customer service. In fact, the experts at AlarmSystemReport.com tested multiple services from ADT and found that in many cases their customer service teams were better than the customer service teams of smaller companies.
Unfortunately, the need to keep their risks low and their customer service ratings high has made ADT slower to move on new technologies. ADT offers many of the newer technologies that other companies offer, but it offers them in limited quantities. New customers will find that ADT offers fewer options than their competitors.
Also, ADT's large market share and brand name recognition has given them the ability to offer their services at a premium price. For this reason, ADT is usually more expensive than their competitors.
ADT probably won't be pushing the industry forward in terms of technology and pricing, but it will continue to force lesser known companies to create extraordinary value. This makes ADT valuable to the consumer as well as to the home security industry in general.
ADT has proven that it is a formidable force within the home security industry and will remain so for a long time. This company will continue to provide an amazing warranty period, great customer service, and well-tested equipment. The experts at AlarmSystemReport.com agree that customers looking for a "safe bet" will continue to buy from ADT, which will keep them at the top of the home security ratings for years to come.
To see exactly where ADT ranks and to read our full ADT review, visit AlarmSystemReport.com
###